Blog
Andrew Velez
Time to Carry On a Friend's Work
May 18, 2019
by Victoria Noe
Peter Staley, Jim Eigo, Andy Velez, Eric Sawyer, Jay Blotcher. Photo by Jennifer Morton

I had a blog post ready for this week. Well, not quite ready, but it was getting there. Then on Tuesday, a post popped up in my Facebook newsfeed:

A man of great heart, deep conviction, and scalding wit has been taken from us. Veteran AIDS activist and ACT UP New York member Andrew Velez died today (May 14) in a Manhattan hospice. He was 80.

It stopped me cold (partly because I had no idea he was anywhere near 80). I knew Andy had had some serious health challenges last year, though I didn't think much of it. The community was rallying around...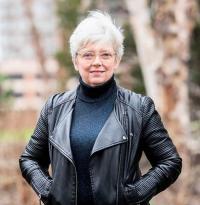 Blog Categories