Blog
Bank of America
Women's History Month - Susan Freed
Mar 22, 2017
by Victoria Noe
Photo from The Advocate

It's natural for people to assume that my book (Fag Hags, Divas and Moms: The Legacy of Straight Women in the AIDS Community) is about women who work(ed) in the community: nurses, social workers, researchers, nonprofit executives.

But a large number do/did get involved as volunteers. Maybe they were drawn in by the illness and death of someone close to them. Or they just saw an opportunity to make a difference: to build on the diversity of the community and give back. Los Angeles resident Susan Freed, a Bank of America vice president, shared her experience June 22, 2016 in The Advocate.



I just completed my third AIDS/LifeCycle, a 545-mile, seven-day bike ride from San...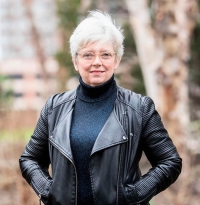 Blog Categories