Victoria Noe
Thanks for joining me here. I'm Victoria Noe. I came to writing rather late in life. In fact, it's my fourth career.
I moved to Chicago in 1977 after grad school to work in the vibrant Off-Loop theatre movement as a director, stage manager and administrator. By the mid 1980s, I'd segued into fundraising, writing grants and creating special events for arts, social service and AIDS organizations.
In the spring of 2006, I was deep into my third career as an educational sales rep to Chicago Public Schools, a business that allowed me the flexibility I needed after our daughter was born in 1994. At a coffeehouse around the corner from her school, over our usual green teas, I told my friend Delle Chatman that I had an idea for a book: stories of people who were grieving the death of a friend. As always she was supportive and enthusiastic, despite the fact that I'd never written a book before. She was also in remission from ovarian cancer. Six months after that conversation, she died.
It took a while to keep my promise. Now and then I'd hear her voice: "You wouldn't have to worry about that if you'd write the damn book." After a few false starts, I finally got serious in 2009, after a concussion ended my sales career. It was a steep learning curve, but I loved interviewing people who wanted nothing more than to honor friends whose lives impacted their own. I broke up the book into a series of six small ones, which became the Friend Grief series. At the time the first ones were published in 2013, there was little written about this kind of grief. The response was gratifying, and I assumed when the series finished that my writing career would be over. I was wrong.
I ran into Tracy Baim, publisher of Windy City Times, Chicago's weekly LGBT paper, in the summer of 2011. To honor the 30th anniversary of the AIDS epidemic, she was running weekly essays from people in the community. She asked me to write one, too, about my experiences in the late 1980s-early 1990s. I was skeptical about whether I would even remember much; I'd burned out in 1994 when our daughter was born. But again, I was wrong. As soon as I sat down at the computer, the memories surged along with the emotions: loss, frustration, rage. That's when I knew one of the books in the series would be about friends lost to AIDS.
That book brought me back to the AIDS community, not as a fundraiser this time, but a writer and activist. I soon found myself joining ACT UP/NY and participating in actions. My essay, "Long Term Survivor", about those of us who lived through the dark, early days of the epidemic, won the 2015 Christopher Hewitt Award. I began writing and speaking about the emotional challenges faced by long-term survivors. But I still believed my writing career was winding down.
After listening to a panel presentation by the women of ACT UP/NY in 2015, I realized that the extensive literature of the AIDS epidemic ignored the accomplishments of women. And though some have acknowledged the critical involvement of lesbians, especially in the early years, none had focused on straight women. So, I went back to work.
In 2019, Fag Hags, Divas and Moms: The Legacy of Straight Women in the AIDS Community gave long-overdue recognition to women around the world who have changed the course of hte epidemic, largely in obscurity. Like my other books, it was built on a solid base of personal interviews and archival research. And it forced me to tell my own story, too. It has been one of the great joys of my life to introduce these women to the world. Look for an online course based on the book to go live in the second half of 2022.

In late 2020, I started on a new book. I thought it would be a reworking and updating of the Friend Grief series, adding a few stories about COVID. But it's evolved into a book just about people grieving friends lost during - but not only as a result of - COVID. What Our Friends Left Behind: Grief and Laughter in a Pandemic was released in September, 2023.
In addition to ACT UP/NY, I'm a member of Alliance of Independent Authors, Chicago Writers Association, and Nonfiction Authors Association.
As I said, this is my fourth career. Will there be a fifth? Will I write more books? Or both?
If you're curious, join my mailing list or follow me on Facebook. I promise whatever it is, it won't be boring.
Thanks again for joining me here!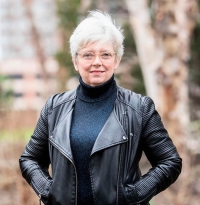 Blog Categories