Looking for a dynamic presentation?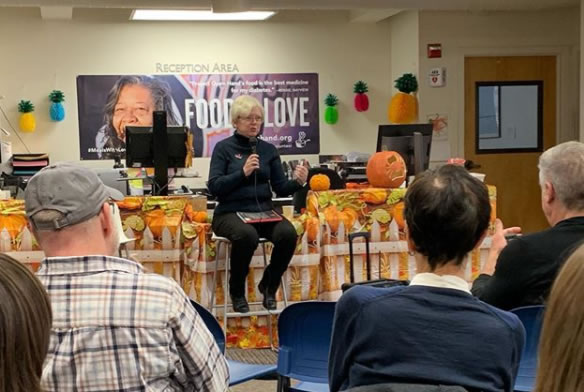 You've come to the right place!
My presentations are flexible to fit your needs: I can talk for twenty minutes, lead a workshop for ninety minutes, or anything in between.
I've spoken at a variety of libraries and bookstores in Illinois and New York as well as events such as Book Expo America, Chicago Writers Association, The Muse and the Marketplace (Boston), Printers Row Lit Fest (Chicago), Mt. Sinai Hospital (New York), ACT UP/London, Project Open Hand (San Francisco), and Writers Digest Conference.
If your organization is interested in any of the following topics – or if there's something more specific you'd like me to present about indie publishing or any of my books – let's talk about ways we can work together. Flexibility on dates is always a plus, as well as offering the opportunity to sell my books to the attendees.


NEW! "It's Not Like They're Family: Grieving and Honoring Our Friends"

COVID has challenged all of us to examine our attitudes toward grief. While families receive most of the consideration, the friends left behind also struggle. How do you grieve the loss of your friends, when traditions are restricted by a worldwide pandemic? How do you make sense of personal loss when it seems like the whole world is grieving? And how do you ensure that your friends are not forgotten?

Based on my award-winning Friend Grief books, this interactive presentation will celebrate our friendships and share meaningful ways to honor the friends who shaped our lives.

Available in-person or virtually.



Disclaimer: This is not therapy.



"Hidden Figures for the AIDS Epidemic"
After 41 years, many people still think only of gay men when they talk about HIV/AIDS. But there are people you won't find in women's history books or documentaries about the epidemic. Based on my award-winning book, F*g Hags, Divas and Moms: The Legacy of Straight Women in the AIDS Community, this presentation reveals never-before-told stories of famous women like Elizabeth Taylor and Princess Diana to nuns, debutantes, and activists from the US and around the world. They changed the course of the epidemic, many of them with little or no recognition until now. A ground-breaking perspective that is long overdue.

Available in-person or virtually.

"Public Speaking for Painfully Shy Authors"
Are you one of those authors who just wants to write? Does the thought of making a presentation or doing a reading terrify you? Well, you've come to the right place!
We start with techniques to make you comfortable in front of an audience of any size. Then we'll discuss how to craft the perfect introduction, choose an excerpt that will make your audience want to buy your book, and create enthusiastic fans. You'll even find out when it may be even more effective to not read anything from your book.
Come prepared: two people will have the chance to present a 3-minute reading (not including introduction) for the group to critique.
This workshop will benefit writers of any age, any ability, any experience. It will give you the tools to remove the angst from public speaking.

Available in-person only.




References available upon request.
For more information on scheduling and fees, email me at victoria@victorianoe.com.