Looking for a dynamic presentation?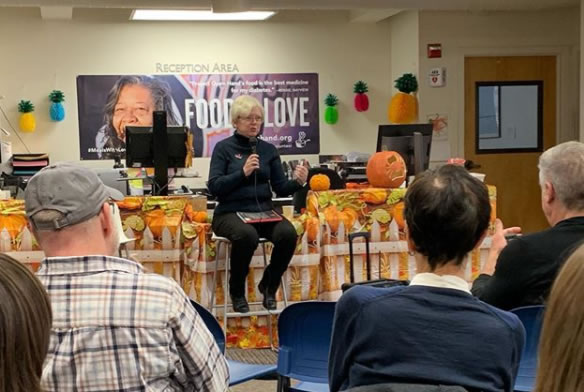 Look no farther!
My presentations are flexible to fit your needs: I can talk for twenty minutes, lead a workshop for ninety minutes, or anything in between.
I've spoken at a variety of venues: libraries and bookstores in Illinois and New York as well as events such as Book Expo America, UPublishU, Chicago Writers Association, The Muse and the Marketplace, Mt. Sinai Hospital, ACT UP/London, Project Open Hand, and Writers Digest Conference.
If your organization is interested in any of the following topics – or if there's something more specific you'd like me to present about self-publishing or any of my books – let's talk about ways we can work together. If you can be flexible on dates, that's always a plus, as well as offering the opportunity to sell my books to the attendees. All are available as virtual presentations.
"Hidden Figures" for the AIDS Epidemic
They've been left out of the history books, documentaries and memoirs. Hear the previously untold stories of straight women around the world, who made a difference then and now. Based on the breakthrough book Fag Hags, Divas and Moms: The Legacy of Straight Women in the AIDS Community.
My presentation shares the history of the AIDS epidemic around the world from the perspective of straight women, in stories that have never before been told. These are women whose successes included a four-year long battle to change the definition of AIDS to include its unique effect on women. These are women who were (and continue to be) not only caregivers, but fundraisers, activists, researchers, educators and nonprofit executives.
While there are several famous women included – such as Elizabeth Taylor and Princess Diana – most of the women profiled have changed the course of the epidemic without public recognition of their accomplishments. Until now.
(Every effort is made to include the stories of local women in this presentation. When possible, those women are invited to participate in the discussion.)
Moral Injury in HIV Long-Term Survivors
Self-isolation. Unresolved grief. Survivor guilt.
A familiar concept in the treatment of military veterans, moral injury also applies to HIV long-term survivors, regardless of status. It's not PTSD, although there is some overlap. And it's a largely unrecognized issue in the LTS community.
In the past few years, the unique needs of long-term survivors have finally been discussed. In large part, this is due to the activism of a few HIV-positive gay men, and too frequently triggered by the suicide of one of their comrades. Learn how to recognize moral injury, address it, and help build resiliency.
(For the purposes of this discussion, HIV Long-Term Survivors include those who have been HIV-positive for more than twenty years; those born HIV-positive; and HIV-negative people who have been part of the community for more than twenty years. Each group has unique challenges and gifts to share with the others.)
Public Speaking for Painfully Shy Authors
Are you one of those authors who just wants to write? Does the thought of making a presentation or doing a reading terrify you? Well, you've come to the right place!
We start with techniques to make you comfortable in front of an audience of any size. Then we'll discuss how to craft the perfect introduction, choose an excerpt that will make your audience want to buy your book, and create enthusiastic fans. You'll even find out when it may be even more effective to not read anything from your book.
Come prepared: two people will have the chance to present a 3-minute reading (not including introduction) for the group to critique.
This workshop will benefit writers of any age, any ability, any experience. It will give you the tools to remove the angst from public speaking.


References available upon request.
For more information on scheduling and fees, email me at Victoria@VictoriaNoe.com.