A Grand Slam for a Friend
[caption id="attachment_1538" align="alignleft" width="204"]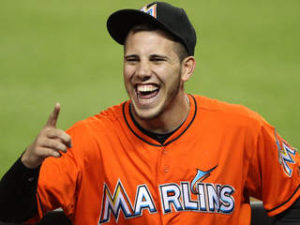 Jose Fernandez   -   ESPN.com[/caption]
Anyone who's a baseball fan – and probably a lot who aren't – heard about the tragic death of Miami Marlins star pitcher, Jose Fernandez. The 24 year old died along with two other men in a boating accident Saturday night.
I couldn't help but think of the 2002 death of St. Louis Cardinals pitcher Daryl Kile, who died of a heart attack during a road trip in Chicago. His was the first death of a major league player during the regular season since Yankee great Thurman Munson died in a plane crash in 1979.
I wrote about Kile and his teammates' reactions to his death – both immediately and long-term – in my book
Friend Grief in the Workplace: More Than an Empty Cubicle.
So I watched how the Marlins players and management handled their grief in contrast to how the Cardinals handled theirs.
My comparisons are not judgments. Everyone grieves in their own way, and as we saw in
Friend Grief and Men: Defying Stereotypes,
men have a particularly difficult time expressing themselves. Athletes, working in the public eye, can be judged particularly harshly. I just want to share the different ways they find in times of crisis.
In 2002, the Cardinals tended to keep their grief in-house. It was a body blow, coming the same week as the death of their long-time Hall of Fame announcer Jack Buck, and it was natural to pull inward.
Kile's regular catcher was Mike Matheny, now the manager of the team. Though the game against the Cubs was cancelled upon the announcement of Kile's death, the team voted to play the following day. Matheny was not in agreement:
They were not even at the halfway point of the season. Though that game was cancelled, they had to keep the rest of the 162 game schedule - beginning with Sunday. Kile's jersey, number 57, hung in the dugout at the end of the bench, and the ESPN cameras focused on it often. How would they get through the game under these circumstances?
Whether to play that game was a topic of passionate debate in the clubhouse. Catcher Mike Matheny was among those who advocated for cancelling the games and returning immediately to St. Louis. He was Kile's catcher. In fact, Kile refused to pitch unless Matheny was catching, and Kile was scheduled to pitch on that Sunday. Matheny told manager Tony LaRussa, "If Darryl's not pitching, I'm not catching."
Tributes – other than the jersey in the visitor's dugout – were mostly saved for their return to St. Louis.
The Marlins, too, returned to regular play after a one-game cancellation. The shock and grief, though, extended far beyond their team. It's certainly a tribute to the well-loved and respected Fernandez, who at such a young age had distinguished himself as a talented competitor who loved his job.
The tributes by the Marlins – and the Mets who they were playing – were respectful and emotional. Not only did Fernandez' jersey hang in the dugout: the entire team wore his jersey.
Oddly enough, it was another team, the Cardinals, that provided an odd, perfect tribute in their game Tuesday night.
Shortstop Aledmys Diaz grew up on the same block as Fernandez, in Cuba. He hit a home run off his friend for the first time as major league competitors in July. Afterwards, Fernandez vowed to strike out Diaz twice the next time they met. But that was not to be.
Diaz was back in St. Louis after a brief trip to Miami to console Fernandez' family and friends. As he said in this
article
, he promised that Tuesday's game – and every game after – would be different:
"He reminded us how fun this game is. He loved this game. He liked to compete. Going forward, I have to love the game even more. Every chance I have to put on the uniform, I have to give everything I have today. That's the legacy he gives us."
[caption id="attachment_1539" align="alignleft" width="204"]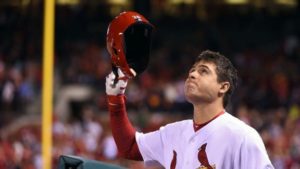 Aledmys Diaz - ESPN.com[/caption]
And so, after grounding out in his first at-bat, he hit his first major league grand slam to help win the game.
Professional athletes are used to setting goals and achieving them, performing every day to the best of their ability. In other words: doing things. So it's not unusual that they would express their grief by channeling it into action.
Because sometimes words aren't enough.
Sometimes you have to empty the bases.