Another Hero Remembering His Friends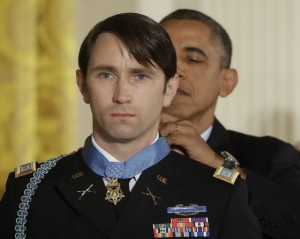 Capt. William Swenson
Photo: Washington Post
Nearly lost is in the chaos coming out of Washington, DC, was the most important event of the week: Army Capt. William Swenson was awarded the Medal of Honor.
Swenson is the subject of some controversy. His believes his criticism of Army superiors, for not providing sufficient air and artillery support during the 2009 Gangjal battle, delayed his award for years (the Army said his nomination packet was lost in their computer for 19 months).
You may remember former Marine Cpl. Dakota Meyer, who also won the Medal of Honor for the same battle. Swenson questions Meyer's account of that battle, so it was no surprise that Meyer didn't show up at the White House yesterday. Two other Marines, recipients of the Navy Cross for Gangjal, did attend the ceremony.
Controversy aside, there is no debate over what Swenson did: risked his life to save US and Afghan troops, as well as retrieve the bodies of four of our soldiers who died in the battle on September 8, 2009.
What struck me – and many – was something Swenson did that day that was not heroic. It was not big or loud or macho. It was, instead, the definition of the bond between battle buddies.
"Amidst the whipping wind and the deafening roar of the helicopter blades, he does something unexpected. He leans in and kisses the wounded soldier on the head – a simple act of compassion and loyalty to a brother in arms," President Obama said at the ceremony.
(The soldier, Sgt. 1st Class Kenneth Westbrook – who with Swenson had been an embedded Afghan trainer for a year - died a month later of complications from a blood transfusion.)
But more amazing is the fact that a crew member on the medevac chopper videotaped it. Swenson says he had no memory of it until he saw the video.
"To see him and to see me in that situation gives me comfort," Swenson said after the ceremony. "I would trade anything for that not to be our last moment, but that was our last moment and I'll always have that now."
We hardly ever know for sure when it's the last time we'll see a friend. Sometimes we are aware of the possibility, but mostly we assume there will be more time. Human nature, denial, call it what you will. But sometimes the result is being denied the opportunity tell our friends how much we love them.
I don't know if the controversy around Swenson is warranted. Most heroes are far from perfect; so are most of us who aren't genuine heroes. I do know that his actions that day in Afghanistan distinguished him as not only a hero, but a friend. And for that, he deserves our thanks.
Here
is a video of that action. I believe it happens at about 4:10.