Finding Community at a Writer's Conference
[caption id="attachment_1450" align="alignleft" width="210"]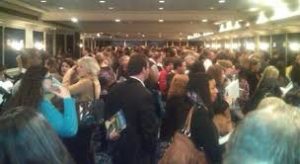 The 2011 WDC Pitch Slam. Every bit as terrifying as it looks.[/caption]
Not long ago I blogged about my experience at Book Expo America. Now I'm preparing for next month's Writer's Digest Conference in New York.
It's my 6th
one (7 if you count LA a few years ago). The one I attended in 2011 was my first writing conference and I was terrified. I had no blog (that started a few weeks later). I had no Facebook author page (that took longer). I started tweeting on my way to New York. I had barely started writing. I learned a lot that weekend, in spite of myself.
As always I have a plan: what I want to accomplish while I'm there, who I hope to have a drink with (Porter Anderson and Gabriela Pereira among others) though I'm sad my conference buddy Kathy Pooler won't be attending this year. And this year, unlike most years, I'm pitching a book.
Attending a large conference in any field is daunting. If it's your first time, it can be terrifying, especially if you don't know anyone there. You probably think everyone knows what they're doing, except you. That's not true, but it sure feels that way.
This year Writer's Digest opened a Facebook group for attendees. The first couple of weeks seemed to focus on how far people were traveling, what to wear and how to pitch. Nothing wrong with that, but it felt tentative.
Then a few people started posting things like, "I write urban fantasy. Anyone else?" Before long, people were identifying themselves by their genres (sometimes multiple genres). Finally, there was someone in the group they could relate to! That feeling of isolation, of feeling alone was gone. The bonding didn't stop there.
Now some of those groups have decided to meet, either pre-conference for lunch or during the conference. Few professions are as solitary as writing, and even though there was great excitement at finding like-minded people online, many felt a clear need to meet in person with those who "get" it.
At my first Writer's Digest Conference in 2011, I was determined to make contact with other writers. The first night I sat at a table of mostly men who ignored me. But somehow I managed to find a group of other writers – Jeanne Veillette Bowerman, George Davis, Al Katkowsky, Karl Sprague, among others – who quickly became my posse. We were all there for different reasons, at different points in our careers, from different parts of the country. But we bonded, so that by the time the Pitch Slam was over on Saturday afternoon, we celebrated in the hotel bar and then ventured out onto 9th
Avenue in search of a restaurant that would let us in.
The rest, as they say, is history. We are still in contact, still get together at conferences whenever possible, still keep in touch online. We read each other's works-in-progress when we need feedback from someone we trust. We share blog posts and tweets. We seek advice and support. And we get it.
Conferences are great for skill-building and networking. But nothing compares to spending a weekend in a freezing cold hotel, eating over-priced food with friends you trust.
I'll see a few familiar faces at Writer's Digest. And I look forward to seeing new ones, too.