"How to Survive a Plague"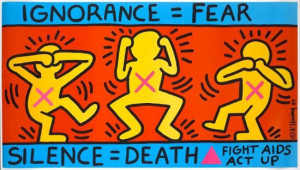 Art by Keith Haring
There's a moment near the end of How to Survive a Plague, the powerful new documentary about the AIDS epidemic, and specifically, the role of ACT-UP in changing the way drugs are tested and made available in the US.
There's a contentious meeting of ACT-UP New York going on, and playwright/activist Larry Kramer is shown, his face tightening in frustration. Finally he explodes: "Plague! We're living in a plague! Listen to yourselves!"
Living through the beginnings of the AIDS epidemic was like living in a plague, or in a war, because it was both: a health crisis that became a desperate war to save lives.
The truly remarkable thing to me about this film is that it exists at all. Much of it is archival footage from 1986-1995, shot by members of ACT-UP.
So you actually see the demonstrators lying prostrate in the center aisle of St. Patrick's Cathedral in New York, protesting the cardinal's condemnation of the use of condoms to prevent the spread of AIDS.
You see the unfurling of the Names Project AIDS Memorial Quilt, covering the National Mall in Washington for the first time.
You see speakers at the International AIDS Conferences in San Francisco and Montreal, as well as those at NIH meetings, interrupted by chanting demonstrators.
You see executives at drug companies confronted by dying men who demand to know why their clinical trials and testing - for drugs sold over the counter in other countries - drag on for years.
And perhaps most remarkably, you see videos of ACT-UP meetings, where members – some still alive, many long dead – debate and strategize, self-educate and threaten, laugh and cry and scream as they create a new model for fighting an entrenched bureaucracy. The willingness to show this footage – warts and all – is brave, fascinating and instructive. "They knew as much about this as we do," admitted more than one medical professional.
We forget now that there was a time when people suffering from diseases did not show up by the hundreds at drug companies or government offices demanding funding and new treatments.
We forget that people with AIDS were left to die in emergency rooms. Afterwards, their bodies were stuffed in big, black garbage bags, and left unclaimed by disapproving families.
We forget that for every right we enjoy, there is a battle that went before, a battle to earn that right: a fight, at times, to the death.
The next big crisis may not be a disease or a virus. It may be environmental. It may be a war. But the lessons in this film apply to all those situations and more. In demanding fairness and hope for those you love, you can save millions.
It's possible that, watching this film, you will disapprove of ACT-UP's tactics. You will believe that there is a more conventional, less confrontational way to get your point across.
But until – and unless – you fight for your life or the life of someone you love, only to face indifference, discrimination and hatred, you don't really know what you'd do to save a life.