My 2nd Annual 'Not an End of Year Review'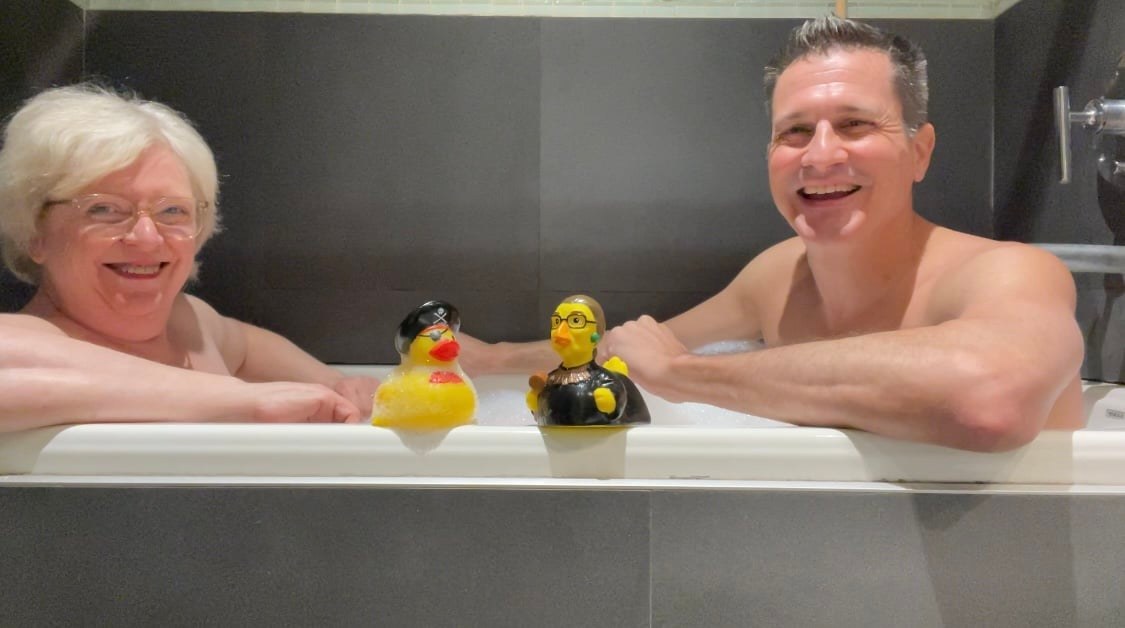 I looked back at the end of year blog post I wrote last December. It was optimistic, bordering on delusional at times. But then, I had no idea what this year would bring:
A few months ago I decided to put aside my work on turning F*g Hags into an online course. The idea came to me early in the pandemic, and made sense at the time. But as 2022 dragged on, it just felt like a burden. My enthusiasm was gone. I still think it's a good idea; just not right now.

I applied for a couple of opportunities that I did not get, but at least I tried. I also created a few opportunities that worked well.

My small but worthwhile crowdfunding campaign raised enough money to pay for a big chunk of my trip to NYC to do more work on the current book about grieving friends who died during COVID. That book did not get published this year when I thought it would because…

I did not anticipate contracting a non-COVID virus in late April, one that knocked me off my feet for two weeks and triggered my long-dormant asthma. I did not anticipate several months trying to find an inhaler that did not trigger an allergic reaction. And I certainly did not anticipate getting COVID in early August, after successfully avoiding it for 2-½ years. That's why I haven't blogged since July.

Thanks to the vaccine and boosters, I had what I would consider a mild case of COVID. But the lingering effects were a surprise to me. I'm halfway through a two-month series of visits with a cognitive therapist at my neurologist's office, and still dealing with the fatigue that is so common among those who have had the virus. Slow progress, but progress nonetheless.

I did some really good work on the manuscript in NYC in June and July, but COVID stopped me from continuing that work. It also stopped my monthly blog post. Mea culpa. Three weeks ago, thanks to my cognitive therapy, I finally felt like I'd made enough progress to resume the first draft - and for a few chapters, the second draft.
When COVID started, I assumed I would lose friends to the virus. And when I started on this book, I assumed I would have some personal experience. In 2020, all of my friends who had COVID recovered. That changed in 2021: three died. This year, there have been eight. Of the eleven, only one died from COVID.
So, is there any good news for this year? There is indeed:
I've made great progress on the book, and expect to send it to my editor around New Year's.

I've already been invited on several podcasts to talk about the book.

I've sent out two newsletters a month all year.

I've displayed at two public library author fairs, Printers Row Lit Fest, and was a panelist for another author event - all in-person.

I made a conscious decision to regularly promote other authors online, particularly women and BIPOC indie authors.

I've gotten more serious about online advertising, both in the number of campaigns and the quality of the graphics.

I did one print interview, two podcasts and a fabulous interview in a bubble bath with my friend Damon L. Jacobs (see photo). My decision to accept Damon's invitation changed my life, both personally and professionally.

I co-presented two virtual events about grieving our friends, with my friend Martie McNabb from Show & Tales, and there are more to come.

I added ecommerce to my website, so you can get all my paperbacks direct from me - signed!

I learned a lot along the way: from the research and interviews for my book, from dozens of webinars and online meetings, from always being willing to ask for help.

And I gave my first eulogy, for one of my best friends. Why is that good news? You'll have to read the new book to find out.
Next year, like every year, will be full of challenges. Some I'm aware of, others will make themselves known. I have a lot of exciting things in the works, many of them quite daunting. I'm not sure how I can make them work, but I'm going to try. If you're curious about what they might be, signup for my monthly email newsletter here.
As the tenth Doctor Who would say, "Allons-y!"