My Writing Group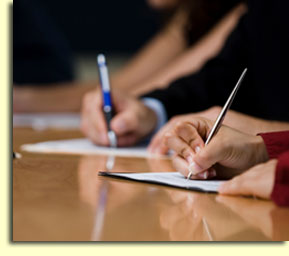 markdivincenzowriter.com

In the fall of 2006, a flyer from Swedish Covenant Hospital arrived in the mail. Among the events listed was a class in life story writing. It was just over a year after my father died, and coupled with my being the family genealogist, I decided it was time to start writing down the stories I'd heard all my life.
We were a group of about a dozen or so, mostly women, mostly older. The leader was a retired creative writing teacher from Northwestern University.
Each week we read something we'd written, and the group critiqued it. I'd not had any of my writing critiqued since college, so it was a little unsettling. And at the time, the idea of writing as a career was not a consideration.
I'd already told my friend Delle, whose cancer had recently returned, that I wanted to write a book about people grieving their friends. She thought it was a great idea, but at that point, I put it aside for more pressing issues. She died right after the class ended.
A core group of us decided we wanted to keep meeting. Jo (the instructor), Helene, Birgitta, Alice, Penny and I began a schedule that lasted until last summer: twice a year (during good weather) we'd meet at Penny's apartment six times over the course of a couple months. Penny was on dialysis three times a week, so we worked around that.
The stories – initially dismissed by the writers as "not important" were fascinating: Birgitta moving to America with her mother, and embarking on a career in the Salvation Army; Alice's childhood near my old neighborhood in St. Louis, and her life in Chicago; Helen's participation in a choral group many years ago, and her devotion to animals. Penny's writing grew the most, as she began writing stories for her family: about her move from the Pacific Northwest to Chicago with her jazz musician husband, and life in a big Greek family.
Over the years, Birgitta moved away and others joined for brief periods of time. But the rest of us stayed together. I missed a few sessions after my concussion, and other sessions were rearranged because of volunteer or travel commitments by various members. Health issues interrupted us, too, not surprising, since they are all at least 20 years older than me.
I'd heard from Alice that Penny's health was deteriorating. When she called me a couple weeks ago, I knew there was something that couldn't wait. I sent her a printout of my first book, and the final draft of the second one. And I told her how much her friendship meant to me.
In the first book's acknowledgements I mention the writing group by name. They, more than any class or conference, influenced and improved my writing. They were supportive, critical, encouraging, when I moved from writing stories about my Dad to what would become the first book in my series. After Delle's inspiration, I owe them the most.
Last Friday – Good Friday – Alice called to say that Penny died that morning. I was grateful that I hadn't procrastinated for once. And pleased to hear that Penny was touched to receive the books.
I suspect that this is the end of my writing group. Jo's health has been shaky. We'd have to find another location, one that (unlike my house) doesn't require climbing stairs. It could be done, but right now seems unlikely.
Will I seek out another group? I don't know. It's too early to tell. I'll still keep in touch with Jo, Alice and Helene, but it won't be the same without Penny. In the meantime I'll have to content myself with the memories of dozens of mornings spent with four remarkable women. They've taught me a lot, not just about writing, and they'll always be in my heart.