Not My Time
[caption id="attachment_1912" align="alignleft" width="300"]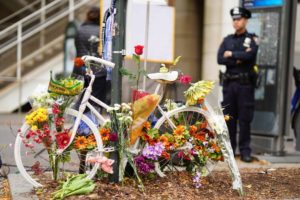 nytimes.com[/caption]
I returned to the little hotel I'm staying at late afternoon on Halloween. Just as I walked in, an alert chimed. Before I could read it, the phone rang. It was my daughter, in London. That was odd. Since she left in September for grad school we only talked at prearranged times. When I answered, she was crying.  It took a couple minutes to figure out that she'd seen the alert before I did, though I was only a few miles away from what happened.
It was the terrorist attack in lower Manhattan, within sight of the 9/11 Memorial. That morning I'd chatted with someone from an organization that will be featured in my book. We discussed whether I should come down to their offices or wait. We decided to wait. Had I gone down, I would've taken the bus from there up to my favorite tea parlor. The bus stop is around the corner from the site of the attack.
After calming my daughter and going online, I saw that Facebook was doing what it does best. A page was set up for "The Violent Incident in Lower Manhattan". It listed all my friends nearby (which meant everyone I know in NYC - quite a long list). But the most unsettling part was "Tell Your Friends You're Safe".
Whoa.
I wrote recently about this phenomenon, in the context of the horrific attack in Las Vegas, where my nephew was visiting. And though I find this one of the less annoying features of Facebook, I was shaken to realize that my daughter might not be the only one worried about me.
Over the next few hours, everyone I knew checked in. One friend who's not on Facebook works very close to the site, so I texted him. His office was still on lockdown, but everyone was fine. He, along with several other friends, tend to go everywhere on their bikes. It wasn't until later that evening that the last friend on the list checked in. He admitted he'd changed his route that day, one of those odd, serendipitous things that happen more often than you'd believe.
These sadly necessary Facebook pages have now been endorsed by disaster relief organizations because they allow accurate information to be shared. That means fewer people are tying up phone lines searching for help or information.
Still...whoa.
There have been a couple times I've been in real danger: an emergency plane landing, a mugging at gunpoint. I was the one who had to reach out, to give others the news and assure them I was safe. There was no other way. After 9/11, a website set up to allow people to indicate they were safe turned into a joke, with people listing Donald Duck and George W. Bush as "safe". Now Facebook has proved its value by giving us all a way to avoid unnecessary fear after a natural or manmade catastrophe. Who knew that would be necessary, much less a good thing?
Before I leave town on Saturday, I plan to go down to Chambers Street, near the West Side Highway. I probably won't bring flowers. But I will bring a prayer, for those who could not mark themselves safe.