Paul McCartney – Grieving for John and George in Music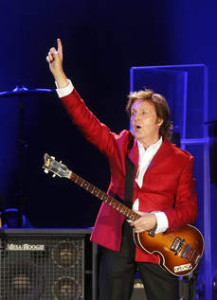 Last night at Wrigley -
Ruthie Hauge - Sun Times Media
Okay, another gratuitous photo of Paul McCartney.
At his Wrigley Field concert last night, he did indeed perform the two songs I wrote about yesterday, "Here Today", dedicated to John Lennon, and "Something", dedicated to George Harrison.
It has been said that men grieve differently. But what I saw onstage was a man who grieved two very different friends in very different ways.
"Something" began simply, with Paul singing along to his ukulele accompaniment. But eventually his band joined in for a lush performance. The video screen was filled with images of George and Paul: rehearsing, performing, and goofing around at various moments in their friendship. It was a tribute to George, a love letter to a dear friend whose presence is sorely missed.
"Here Today" is not a song written by the friend who died; this was a song written to the friend who had died. There were no video images, no backup from his band; just Paul playing acoustic guitar. Paul's relationship with John was much more complicated than the one he shared with George. Theirs was almost like a marriage between two immensely talented and opinionated men. It was not smooth sailing, and McCartney's song is about the regrets of that kind of friendship:
And if I say I really knew you well, what would your answer be?
Well, knowing you, you'd probably laugh and say that we were worlds apart, if you were here today…
And if I say I really love you and was glad you came along, then you were here today…
Don't wait, he admonished his audience last night, to tell people you love them. His regret and guilt were palpable.
So in the midst of a 3-hour concert, it was a fascinating study in contrast: deep love and respect for both friends, but very different relationships, very different grieving.
How do you want to remember your friends: the way he remembers George, or the way he remembers John?
It's not too late to start Kristie West's 30 Day Challenge, and prevent those regrets.