Preserving Stories of 9/11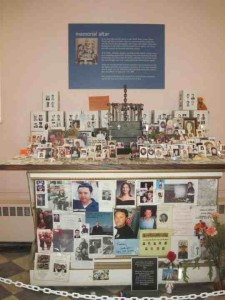 Stories on the Ofrenda at St. Paul's Chapel
What really separates humans from animals is the ability to tell and record stories. From the beginning of time, men and women have told stories about their lives, their dreams and their beliefs. And they've found ways to pass them along: oral storytelling and drawings on the walls of caves; hieroglyphics and illuminated manuscripts; blogs, texts, tweets and books.
There are two organizations that are preserving stories about 9/11.
Since 2003, Story Corps has collected and archived more than 35,000 interviews from more than 70,000 participants. Each conversation is recorded on a free CD to share, and is preserved in the American Folklife Center at the Library of Congress. Story Corps is one of the largest oral history projects of its kind, and has a number of special initiatives focusing on specific ethnic groups and historic events. You can listen to interview excerpts from their 9/11 project on their website and on NPR.
Voices provides information, resources, support and commemorative events for the 9/11 community. They also provide an opportunity to honor the lives and stories of those who died that day. Their digital archive for each victim of the 9/11 attacks will be part of the new 9/11 Memorial and Museum.
Both of these organizations are doing very serious, professional work to preserve the stories of 9/11, so that the event itself and the people it touched are never forgotten. Both are nonprofit organizations deserving of your support.
A lot of media outlets and websites are asking people to share their stories about "where were you on 9/11?" Those are opportunities as well, although perhaps not as permanent or meaningful.
I'm the family genealogist. I've learned over the years that the way in which you preserve the stories isn't what's most important. What's most important is making sure those stories survive for all to share and appreciate.
9/8 – Tourism and Souvenirs, 9/11-style
9/9 – The Guys
9/10 – 110 Stories
9/11 – Guest post by Damon DiMarco, author of Tower Stories: An Oral History of 9/11
9/12 – Ground Zero, 10 Years Later
9/13 – The Buddhists and the Brits: how other cultures and faiths commemorate 9/11
9/14 – The New 9/11 Memorial