Reminders of Your Friends
It's just stuff, right?
Since I wrote this post last year, I've paid a little more attention to "stuff": this despite the fact that I'm at an age where I'd dearly love to get rid of a lot of "stuff".
But these are things that remind me of friends who have died. Most often, they're photos, but sometimes they're gifts I received from them, or souvenirs from a night on the town. One is a note she wrote in high school. I can't help but think of them when I see and touch those things.
Maybe this will remind you of something you have that reminds you of your friend: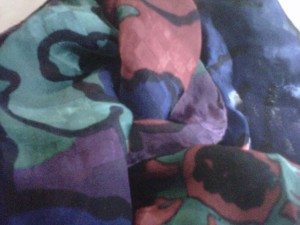 This is a picture of a scarf that belonged to my friend, Delle. She had quite a collection of scarves. Tall and vivacious, she wore them with style, unlike those of us who struggle tying them.
At the gathering after her funeral mass, those attending received "goodie bags": a blue paper bag, with her photo on the side, with one of her scarves inside. I remember making my selection very carefully, and choosing this one. I wanted something of her, some piece of her. Its bright blues and reds and purples were familiar to me, and comforting. When I wear it, I say I'm "taking Delle with me."
Delle has traveled with me to Missouri and New York, California and Kentucky. She has given me the courage to pitch my book, and attended the theatre.

She's always with me, but when I wear her scarf – even now after almost 5 years – I feel closer to her.
The World Trade Center Tribute Center has a new exhibit called "Objects Speak", a small but powerful example of the meaning of things.
Objects from the site are preserved in Plexiglass cases. Their owners – or someone related to the original owners – comment on their meaning when first found, and their meaning nearly 10 years after the attacks. They illustrate how the significance of an object can evolve over time. As one participant in the exhibit stated:
"I felt these things are not a possession – they are a treasured memory." (Christina Cerciello, Elegant Affairs)
Perhaps you have a keepsake from your friend – a photo, a note passed in history class, a ticket stub from a concert. At the time, it may not have had great meaning. But today – perhaps years after they died – that little scrap of paper may mean the world to you.