Saving Grief Until After Wimbledon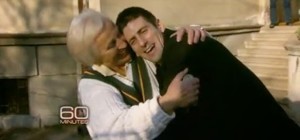 stream.goodwin.drexel.edu
I'm not a huge tennis fan; in fact, I'm still learning the game. But I became a fan of Novak Djokovic a couple years ago.
Part of it was because he's from Belgrade; my mother's family is from Zemun, about 10 miles away. Part of it was his style of play and manner. So many athletes are loud, rude, and arrogant. But I enjoyed his funny Facebook posts and learning about his involvement in charitable work in his hometown.
During the French Open, I heard about the death of his childhood coach, Jelena Gencic. I immediately remembered a 60 Minutes interview I'd watched last year, where he was shown returning to Belgrade to visit with her. Their love and respect for each other was plain to see. He promised her just before the French Open that he would bring home the trophy for her.
That was not to be. As I watched him lose in the semi-finals on TV, it was clear that his head was not in the game. Tennis is largely a mental game, 126mph serves notwithstanding. Players must be focused, loose and optimistic. The French Open trophy – the only major he hasn't won – would have to wait.
"I cannot say that I overcame that kind of grief that I felt inside," he said afterwards. "It's still there because it's still fresh. But I also try to focus on the nice memories I had with her. My first coach and mentor, a friend and a lady that really contributed a lot to what I am now."
Another reason I like Djokovic is that he doesn't whine, doesn't make excuses or lash out at other players. I had enough of that bad boy behavior during the heydays of McEnroe and Connors. His grief contributed to his problems with concentration, but he didn't use it as an excuse for losing. His focus is now on the soggy grass at Wimbledon.
"I still didn't go to Belgrade," he said earlier this week. "It happened very recently, so I didn't go and have the tribute to Jelena. I didn't go to visit the cemetery, but I will, the first available moment after Wimbledon."
So after the grass at center court has dried out, after the strawberries and cream are long gone, after he's – hopefully - hoisted the silver cup in victory (perhaps against native son Andy Murray), Novak Djokovic will go home to Belgrade. There he'll be able to honor his friend, his mentor, who is as responsible as anyone for his success.
And then, I expect, the number one tennis player in the world will set his sights on Montreal, the US Open and beyond. Because what better tribute to a friend, than to continue to honor their importance in your life?