Setting Your Goals for a Writing Conference
[caption id="attachment_1450" align="alignleft" width="207"]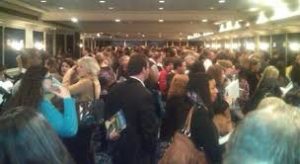 My first Pitch Slam[/caption]
Yesterday I told my daughter, "I need to get my shit together about this trip." The trip I leave for in a week is to New York. I wasn't referring to packing. What I need to get together are my goals for part of that trip.
I'll be there about a week, with interviews scheduled for my next book (
Fag Hags, Divas and Moms: The Legacy of Straight Women in the AIDS Community)
. These will be some of my last face-to-face interviews before I settle down to start writing. I've already sat down with about thirty women, so I'm not worried about a lot of preparation for these. It's the conference.
I don't mean deciding whether to bring business cards (duh) or Googling where the closest Starbucks is located (across 6th Avenue from the hotel) or even hoping the Mister Softee truck is still parked on the corner (please, God).  I mean the conference itself.
Writer's Digest is one of the only writing conferences I attend. It was the first one I went to in 2011, when I knew less than nothing about writing or publishing. I go back partly to reconnect with friends, but mostly to learn.
Every year I have different goals. Sometimes I go to the Pitch Slam (once only to get feedback on a book I was considering writing). Sometimes I need to focus on marketing. Okay, I always need to focus on marketing because it's an ongoing part of my business. Once I took a chance and attended a fiction workshop on developing characters. It turned out to be the most valuable session of the weekend. Now I recommend to everyone that they choose a workshop that's (seemingly) unrelated to what they're doing because I got so much out of it. Writing, after all, is writing, no matter the genre.
When I registered for this year's conference, I chose workshops from the list of those being offered. You're not obligated to attend those sessions; it's to give the organizers a sense of room assignments and how many handouts they need. The workshops are tracked, but I didn't stay within any one particular track. As I studied the list, I had to ask myself "why are you signing up for that?"
My reasons change from year to year, though "to learn" is always part of any decision. Two years ago, when I went to the session on developing characters, I wanted to up my game. My books are about real people and I want the reader to identify with their stories. The suggestions offered helped me, I think, more effectively achieve that goal.
Do I want to expand my freelance work? Then I go to workshops on pitching magazines and websites. Do I need to refine my marketing plan? Then I go to workshops that will help me do that. But that's me, not you.
Ask yourself "why am I going?" Be honest about it. There are friends I always see at Writer's Digest, so that's part of the attraction. It's in New York, so I take advantage of that, too: the night before the conference I'm seeing
Hamlet
at the Public Theatre. The night after I'll probably be at the weekly ACT UP meeting. All of that's unrelated to the conference, of course, but it's part of the draw.
There are hundreds of writing conferences held every year in big cities, isolated resorts and on college campuses. They focus on specific genres, craft and publishing. Some are academic, most are not. Some are local or regional, others are international. There really is something for everyone.
So, sit yourself down with your conference schedule and ask:
"What do I need to learn?"
"What's the most important thing I need to focus on in my writing business right now?
"Who are the people there who can help me achieve my goals?"
"Am I resistant to any aspect of my business (such as marketing), and if so, how do I get past that?" In other words, "Am I open to suggestions?"
"How will this conference make me a better writer?"
Being clear on your goals before you ever pick up your badge at registration is a thousand times more important than choosing your wardrobe (that's a whole different discussion) or practicing your elevator pitch.
Maybe I'll see you at Writer's Digest Conference next week. We can share our goals for the weekend. And get a hot fudge sundae from Mister Softee.