The Buddhists and the Brits Commemorate 9/11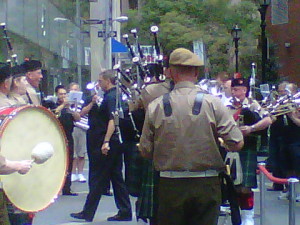 Bagpipers and Pipe & Drum Corps
at the British Gardens
When most people think of 9/11 observances, they think first of New York, then Washington, then Pennsylvania. They think in terms of Americans remembering the loss of American lives. They think in terms of solemn, patriotic ceremonies, naming the names of those who died; perhaps displaying those names on programs or engraving them in stone. They wave American flags and banners.
And while it's true that most of those who died that day were American citizens, the victims represented 93 countries.
The British, to no one's surprise, conduct a formal ceremony in a tiny slip of park in the middle of Wall Street, called the British Garden (now renamed the Queen Elizabeth 2 Commemorative Garden).
This year, police officers from Great Britain, Canada and Australia turned out after showing their respects at Ground Zero. They marched and stood at attention while the West Yorkshire Pipe and Drum Band performed, followed by the Gardens' official bagpipers, the Allied Forces Foundation. A combined choir from Scotland sang, too, after formal speeches from Canadian Prime Minister Stephen Harper, and the Consuls General of Australia and Great Britain.
"No more dates on the calendar should become symbols of the wounding of a nation," Harper said.
There were no religious references, no naming of victims' names. The Garden's leaders announced that it would now commemorate the victims of not only Great Britain, but Canada and Australia as well. It was proper, sincere, and secular. Those who attended, some from half a world away, came at their own expense, and were proud to do so.
That night, Pier 40 at the end of Houston Street was turned over for a Buddhist floating lanterns ceremony.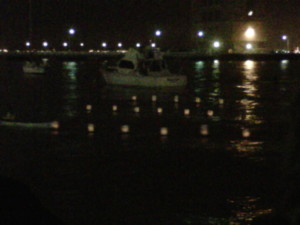 Lanterns floating in the Harbor
People gather in early evening to write messages, memories and prayers on large pieces of paper, which are then folded around candles. Each lantern is then fixed to a kind of tray, tied in a line with five more, to form a chain of soft lights. Kayakers then pull these chains out into the Hudson River, where they are released into the night.
There are a few, very brief speeches that serve mainly to welcome people and explain the significance of not only the lanterns, but the music and chanting. Though referred to as a Buddhist ceremony, it was in fact interdenominational, with Jewish, Hindu, Christian, Islamic and Afro-Caribbean ministries represented.
The music, played mostly on reed instruments and the occasional drum or gong, is quiet and slow.
Unlike the mostly older crowd at the British Gardens, the attendees at the floating lantern ceremony were mostly under the age of 40, and considerably more culturally diverse. And also unlike the other crowd, this one was made up mostly of residents of New York.
The purpose of the event is to look at 9/11 as a teaching moment: how can we use that pain to make the world a better place? How can we move past the horror to become better people, better citizens? "Let us covenant now to take care of each other," was Rev. Alfonso Wyatt's parting prayer.
Both ceremonies took place in New York on 9/11, but were as different from each other as they were from the observances at Ground Zero.
There are many ways to look at what happened 10 years ago: the details, the meaning, and the implications for the future.
Every group of people - whether brought together by geography or faith - finds its own way when considering an event with such historic significance.
They struggle to determine what's most important to them: rebuilding the site? Honoring the victims and their survivors? Pledging to improve their lives and the lives of those around them?
There are as many ways of grieving as there are people. Their culture, their nationality, their beliefs all have an impact on that.
The very different approaches of the British and the Buddhists prove that there is no wrong way to grieve. But there is one that is right for you.
Tomorrow: The New 9/11 Memorial