Travel Tips for Writers
[caption id="attachment_1598" align="alignleft" width="156"]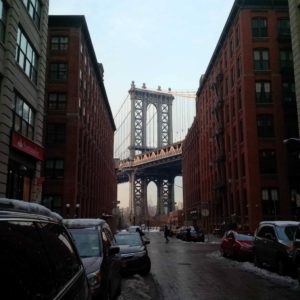 Brooklyn[/caption]
My friend, Porter Anderson,
wrote
about the importance of travel for writers. Sometimes all it takes is some alone time in a different place to dissolve writer's block, recharge your batteries or find inspiration. And we all agree we'd do more of it if we could.
What's stopping you?
Money.
I thought I'd expand on Porter's tips (he won't mind), since a lot of us are making plans for 2017. Here are some ways you can make those trips happen:
Lodging.
Be flexible, but loyal. Are there places you return to time and again? I'm in New York a lot. There are two hotels I've returned to over a dozen times. Because they're both part of the same brand loyalty program (Holiday Inn), I earn points towards free nights. Now and then I get a free mini-fridge. Loyalty programs have lots of perks and are free to join.
Airbnb can be iffy, depending on the location. If you're staying for a week or more, check out extended stay locations. They offer laundry rooms and kitchenettes. That means you save money cooking for yourself or at least reheating leftovers. Onsite – usually free – laundry means fewer clothes to pack. Some even have free buffet breakfast.
I rarely stay at a conference hotel unless I have a roommate to split the cost. Last summer I saved close to $150/night by staying at a Holiday Inn a short walk away in midtown Manhattan. I could've spent even less if I'd reserved a room in Brooklyn or Queens.
I've stayed at more than one hotel during a week in order to take advantage of specials. For example, I stayed in a $99/night hostel/hotel during the week while I spent long days at the library. Then I moved to a different hotel for their $140/night weekend rate that included laundry and free breakfast.
[caption id="attachment_1602" align="alignleft" width="208"]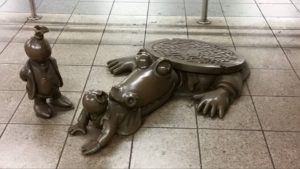 Subway - 8th Ave. &14th St., NYC[/caption]
Travel.
Don't dismiss Amtrak, which also has a loyalty program. It beats driving, and the roomettes for overnight travel give you privacy (meals are included, but not alcohol). Like airlines, booking in advance saves money.
If you're in a location with great public transportation, get a weekly pass, even if you're only there a few days. That gives you flexibility and one less thing (the card  balance) to worry about. Avoid taxis and Uber surge pricing.
Groupon
. Yes, Groupon. Check the city you're traveling to. I've gotten steep discounts for parking, meals, museum passes, groceries, exhibits and tours.
Food
. Even if you don't have access to a kitchen, you can save money. Use those free drink/food points you've accumulated on your Starbucks card. Otherwise stay away from chains. It's tempting, but you won't find inspiration. Google something you like – mac'n'cheese, eggs Florentine, pad thai – and check the reviews. Be adventurous. Walk around and let the smell of barbecue or chicken soup or apple muffins guide you.
Check Grub Hub. Look for farmers markets. Don't forget good old-fashioned diners. My favorite one in NYC gets me tea, juice, eggs, potatoes, corned beef hash and toast for $10: lots of food to fuel my morning (and half the afternoon). Even expense-account restaurants, like Acadiana in Washington, DC or Grand Central Oyster Bar in New York have affordable offerings, especially at lunch.
[caption id="attachment_1600" align="alignleft" width="208"]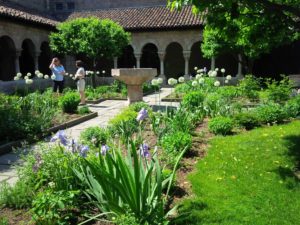 The Cloisters[/caption]
Research
. If you're travelling for research, be sure to check the library/archive rules ahead of time. For example, I can take anything into the Rose Reading Room at New York Public Library. But there are strict rules for the Brooke Astor Reading Room in the same building. And those are different than the rules for the Performing Arts Library at Lincoln Center, Fales Library at NYU or Regenstein Library at U of Chicago. Submit your requests for materials well-ahead of time. Find out if non-residents can obtain temporary library cards (you may be required to do this in order to access archival materials).
Going to a museum or historical site? Check your own local memberships to see if they have reciprocal agreements. You may get in for little or nothing. Also check out their free days/evenings and special bonuses (one admission gets you into the Metropolitan Museum and the Cloisters on the same day).
Income
. Book a presentation or book signing while you're there. Every little bit helps!
Rest your brain
. Ride a bus just to watch the world go by. Take a walk in the park or on the beach. Go window shopping. Nap.
So those are some tips. I'm sure you have a few of your own. Travel is important. It exposes us to new cultures, cuisines and ideas. It calms us down and opens us up to possibilities. It recharges our batteries and inspires us to tackle new challenges.
Put it at the top of your New Year's resolutions. And as my favorite Star Trek captain says,
"Make it so."