Veterans and Friend Grief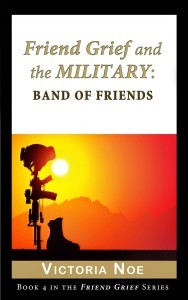 A lot of people confuse Veterans Day and Memorial Day. Memorial Day is when we remember those who made the ultimate sacrifice, dying for their country. Veterans Day is when we honor all the men and women who served.
Some veterans – particularly older ones – enjoy being told "Thank you for your service." Many younger ones, though, do not. They feel it's an empty compliment, given by people who have sacrificed nothing. When you thank them for their service, they hear "thanks for doing what I wouldn't do."
The topic came up recently at a moral injury symposium in Chicago. The room was filled with veterans and those who serve them at the VA and various nonprofit organizations, including the event organizer, Military Outreach USA.
One young man, who was passionate about not wanting anyone to thank him, told a powerful story. One of the men under his command had been killed by an IED (Improvised Explosive Device). They had no body bags with them, just black garbage bags. Men from another unit helped retrieve the remains. But the story didn't resonate until he repeated what one of the soldiers called out to him during the search: "Hey, did your guy have blue eyes?"
Those of us who have not served in the military cannot understand what our veterans have been through, no matter how many times we watch
Band of Brothers.
They're the only ones who understand what it's like to see a friend blown to bits before their eyes, and then have to pick up the body parts and stuff them in a garbage bag. It shouldn't surprise you that the veteran telling the story doesn't allow black garbage bags in his house.
So what can we do to honor veterans?
There are a lot of scams out there, so you have to be careful who you donate money to. The ones I recommend most highly are
Stop Soldier Suicide
and
Military Outreach USA
. The latter, as you may know, is my charity partner for
Friend Grief and the Military: Band of Friends
. I donate 25% of the purchase price – not the profits – to the work they do around the country to educate about moral injury.
Yes, by all means, post photos of flags and veterans on Facebook and Twitter on November 11. Raise awareness. Honor your family members who served. But this year do a little more. Take the time to learn about the issues facing our veterans – from all conflicts – who can't forget the sights and sounds and smells of war. Support a reputable organization serving their needs.
You can do both with my book. The reason I know you can is because of the response from veterans who have read it:
"You get it."
And for me, there's been no higher praise for anything I've ever written.