Writing in the Summer - Part 2
[caption id="attachment_2091" align="alignleft" width="225"]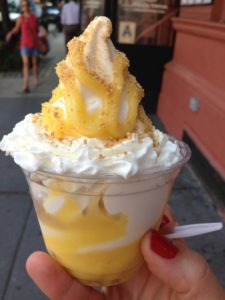 The Mermaid sundae from Big Gay Ice Cream[/caption]
A few weeks ago I
wrote
about the beginning of my six-week trip to NYC. I had finally sent my manuscript to the editor and was surprised when he sent back the first chapter 48 hours later. Because Writer's Digest Conference was starting in a few days, I was determined to power through that chapter before it started. I did, though not easily.
This was the 8th time I've attended the Writer's Digest Conference here (9th if you count the one I went to in Los Angeles). The first year I knew less than nothing, but I fell in with a terrific group of writers who have remained trusted friends. Each year I set goals for the conference and choose my workshops accordingly. Every year I learn valuable information for my writing and my business.
Because of the challenges of the past 20 months - broken writing hand, surgery and rehab followed by mother's final illness and death - my writing has taken a hit. Sales tanked (thanks in part to the dramatic loss in reviews on Amazon, due to their ever-changing definition of 'legitimate' reviews) and speaking engagements dried up. And all the while I was trying to write this next book.
I decided WDC would be the re-launch of my writing business. I soaked up as much information as possible about marketing and business options. It was a terrific conference, one of the best I've attended. By Sunday, my brain was a bit mushy. Two other things happened that day.
First, that Sunday morning, the grief for my mother rose up again. That happens, you know, when you least expect it. I was almost unable to attend the first session. But I did, and made it through to the end without dissolving into a puddle of tears.
Second, I got the rest of my manuscript back from the editor. I wasn't expecting it so soon. Since then, I've been working pretty much every day to ignore the angst caused by the sea of red ink on each page. That's not to say I'm making every change he wants. There are a few that I'm either ignoring or we'll discuss. That has most of my attention and brain power right now.
I knew on this trip I'd have a lot of alone time. It's hard to ignore grief when you're alone, no matter how busy you are. I thought I was prepared for what happened that morning, and several times since. I wasn't. And that's okay. It's only been five months, which sometimes feels like a minute, sometimes feels like a lifetime.
I've needed that alone time: both for the grief and for the focus I needed to concentrate on the edits. Other than the conference, I haven't spent much time with friends. Finally, I accepted a couple of lunch invitations. One of them was with a man who rescued me from an unexpected mouse invasion in the apartment I'm staying at. The other was a man who's been a friend for over five years.
I wasn't prepared for the second lunch to be emotional. It wasn't until 9/11 that I told my best friends that I loved them. I think a lot of people had that reaction. This time, it was a surprise to say and hear the words. I felt a bit shaken, but in a good way. That conversation, oddly enough, seemed to energize me to return to my edits the following day.
I have one week left, and if I sound annoyed that the oppressive heat and humidity in New York will leave about the same time I do, well...you'd be right. I'm probably 80% done with the edits. One chapter is in pretty bad shape. Another is getting there. The rest are fine, except when I need to go back to my research and pull out more information.
Am I pleased with it? Mostly. I don't know if I'll ever be 100% happy, because I'm keenly aware of how many wonderful stories didn't make it into the book. But it's not done yet. I'll have a better sense of it in a couple weeks.
But for now, as I wind down this often frustrating, sometimes emotional, but ultimately productive trip, I'll schedule my final visits to a couple places that lifted my spirits:
Bosie Tea Parlor
for their terrific chai scones with clotted cream and jam, and
Big Gay Ice Cream
, for their addictive Mermaid sundae (vanilla soft serve, graham cracker crumbs, key lime curd and whipped cream).
Then I'll say goodbye to New York. And hopefully, I'll be back soon.