"You have been - and always shall be - my friend"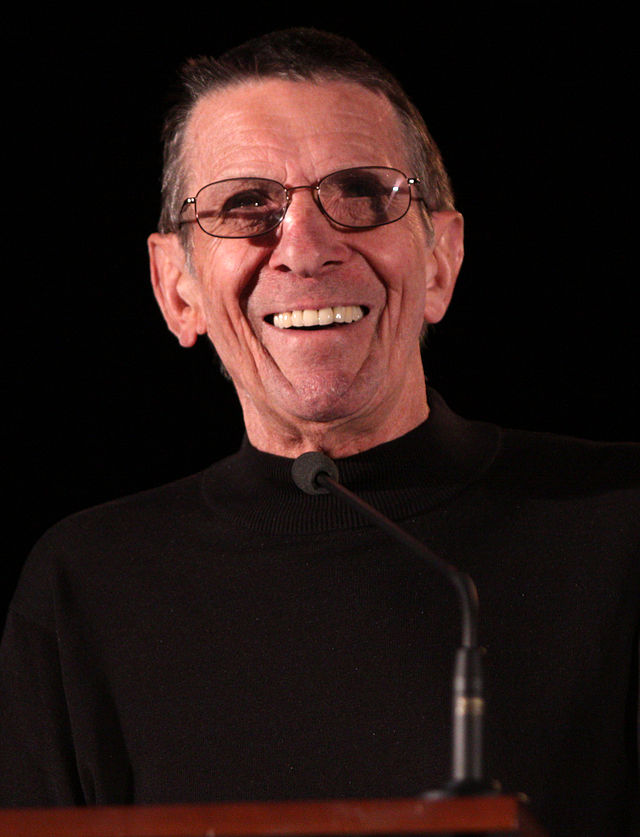 Nimoy at Phoenix Comicon
Unless you live under a rock, you know that actor Leonard Nimoy, the Vulcan first officer Mr. Spock on the original 
Star Trek
series, died at the age of 83. And though he was surrounded by his family when he died, they were not the people the media reached out to first. They were not the people his long-time fans wanted to hear from. They wanted to hear from his friends.
Most of those who were interviewed were former cast-mates on Star Trek, along with others who worked with him in his impressive career on stage, television and film. Many found it challenging to express their grief for a man they counted as their friend for decades.
Not everyone – even celebrities – can be eloquent when a friend dies. I've written about the backlash against Paul McCartney's "It's a drag" comment after John Lennon was murdered. He attributed his words to the shock of hearing the news just hours earlier. There are those now criticizing William Shatner, Nimoy's co-star on Star Trek, because he honored a previous commitment to appear at a fundraising event rather than attend his friend's funeral.
I guess I'm less inclined to criticize, because I don't know what's in their hearts and minds. But I found it instructive that those who knew him best focused not on his work, but on the man. Bear in mind these are "official" statements. I'm sure more will come later:
"We will miss his humor, his talent and his capacity to love." – William Shatner
"He was a true force of strength and his character was that of a champion." – Nichelle Nichols.
"His most enduring quality was his kindness and his desire to make you the most you could be." – Steve Guttenberg
"My heart is broken. I love you profoundly, my dear friend. And I will miss you every day." – Zachary Quinto
"Today the world lost a great man and I lost a great friend. You taught us to 'live long and prosper' and you indeed did, my friend. I shall miss you in so many ways." – George Takei
Even the astronauts on the International Space Station – and remember, that many of them were inspired by the ideals of the original Star Trek series – paid tribute to Nimoy and his unique character on the show.
But perhaps the best tribute to Nimoy – the best compliment for any friend – is the line from Star Trek II: The Wrath of Khan. Spock is dying. His friends are not only unable to save him, but forced to watch him die. And though Spock was resistant to expressing any emotions, he manages to tell Kirk, his closest friend, "I have been – and always shall be – your friend."
Why don't you say those words to someone today?