A Reflection on COVID-19 - Guest Post by Krishna Stone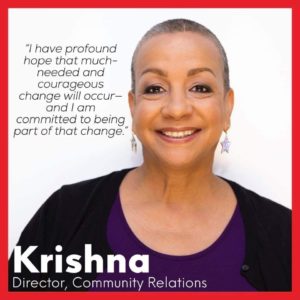 As you can tell by her photo, Krishna Stone possesses a joie de vivre that inspires everyone lucky enough to be around her. It was my pleasure to include her in Fag Hags, Divas and Moms: The Legacy of Straight Women in the AIDS Community. Though the personal losses have been many, she has found a way to honor her friends and keep fighting...while dancing.
"It is time to dance. Who will I dance for tonight who has died of AIDS?"
During the 1980s and 90s, when I was volunteering and then becoming an employee at Gay Men Health Crisis, visiting with friends who were living with AIDS and then attending memorial services for those who had died of AIDS, dancing was a substantial coping skill.
I would go to the clubs, largely for gay men, and dance to extraordinary Disco Classics music, played by immensely gifted DJs. Before I would start on the dance-floor, I would ask myself who was I dancing for that had died of AIDS.  Then I would dance for hours, while crying for my friends, singing out loud and screaming when the DJ would play a specific song—"Oh my Goddess! That's my song!" Pure rapture and joy mixed with sorrow.
These days, there are very few opportunities to dance. I am lucky if there is a Disco Classics party maybe twice a year. When I am able to dance in a venue, I still cry because I miss my friends who died of AIDS or another illness. I also cry because I have friends who made it through the plague years of the epidemic—especially those who experienced significant loss. We are a tribe of warriors on the dance-floor and we know the music by heart. On occasion, I will play my records or listen to my cassettes and CDs of the music that remains extraordinary, which continues to provide comfort.
During this time of COVID-19, I have to work remotely, which is a first for me in 27 years at GMHC. I struggle with feeling stressed, isolated and very sad by the impact of the pandemic. I do not read the articles listing the names and faces of people who had died of COVID-19. However, I watch the news on TV once during the day, and read a handful of posts related to the pandemic on social media networks. I love the funny memes and gifs that are oftentimes hilarious.—another way to help cope. 
I also think it is important to read the articles that look at the comparison between the HIV/AIDS epidemic and COVID-19 pandemic. While they are vastly different, there are similarities related to how people become activists and get involved in the fight for human rights. Our work continues.
So, let's keep fighting and dancing.
Krishna Stone is the Director of Community Relations in the Communications Department at Gay Men's Health Crisis (GMHC).  She originally connected with GMHC in 1986 as a walker in the first annual AIDS Walk New York and then started volunteering at GMHC; in 1993, she became a staff person. Her work includes organizing community events such as rallies, candlelight vigils, non-denominational gatherings, press conferences, local/state/national conferences, dance party/fundraisers, panel discussions, trainings, and site visits for people all over the world.  She coordinates interviews for media outlets, helps with social media promotion, developing public service campaigns and promotional materials. Krishna is also an ordained non-denominational minister.  In 2014, she was honored by the New York City Department of Health and Mental Hygiene for "her outstanding dedication to combatting the spread of HIV." For the past 20 years, she has been a volunteer announcer along the route of the annual NYC LGBT Pride March.  In 2017, Krishna was one of the four Grand Marshals for the NYC LGBT Pride March, and received a proclamation from Governor Andrew Cuomo "in honor of her dedicated service and continuing contributions to our great State." In 2019, she was awarded the Sam Ciccone Community Service Award by the Gay Officers Action League New York. She is the proud mother of her 25-year-old daughter, Parade.