Chapter 5 for a Friend
[caption id="attachment_1131" align="alignleft" width="130"]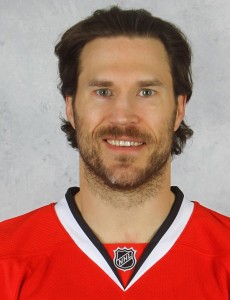 Steve Montador[/caption]
Concussions are a serious issue. Believe me, I know: I had one six years ago and I still deal with the fallout every day. Mine is classified – in today's language – as a "mild traumatic brain injury". I had no fracture, no swelling, no bleeding. I did not lose consciousness. I'm able to function pretty well most of the time, and I'm not getting worse. But many athletes are not so lucky. One was Steve Montador, who suffered multiple concussions during his ten year NHL career. He was found dead of natural causes on February 15.
How does one die of natural causes at 35? An autopsy of his brain found severe chronic traumatic encephalopathy. Not diagnosed as often in hockey players, it's devastated many professional football players.
"You could see something was going on with his brain other than him falling out of sobriety," said his friend and former Chicago Blackhawks teammate, Daniel Carcillo.
So when Carcillo suffered his second (documented) concussion just weeks later, you have to assume the death of his friend weighed even heavier. In late April he was cleared to return to the ice, where his team won their third Stanley Cup championship in six years.
It's a tradition that the team members get to spend a day with Lord Stanley's cup. They can take it home, visit a children's hospital, go to a baseball game. You can pose your baby in the cup or drink beer out of it.
Daniel Carcillo's cup celebration came at the beginning of September. He gave a party, but one with a very special purpose. Carcillo, you see, had retired from hockey.
"Today, I'm retiring from the National Hockey League. My immediate goal is to help athletes transition to the next phase of their life – whether it's continuing education, finding internships with companies, or networking with other athletes who are dealing with the same issues. My mission is to help guys who are dealing with anxiety, depression, and uncertainty about their future. Not down the line, not next week, but right now."
He'd seen first-hand the challenges Montador faced: not just the multiple concussions, but the complications of moving from a fast-paced, public life to one of near-obscurity. With luck, athletes can live 50 years after retirement. But for many, what time they have after retirement is clouded by post-concussive issues and substance abuse, problems too big to address on their own.
As happens more often than you might imagine, the death of a friend inspired Carcillo to start
Chapter 5
, an organization to help professional athletes transition from the limelight to real life. In case you're wondering about the significance, Montador wore number 5.
So his Stanley Cup party was a fundraiser for 300 Blackhawks fans who could bid on hockey-related items, including a Blackhawks jersey signed by the entire championship team. They had the chance to have their picture taken with Lord Stanley's cup (for those who aren't hockey fanatics, there is nothing comparable in other sports).
[caption id="attachment_1132" align="alignleft" width="151"]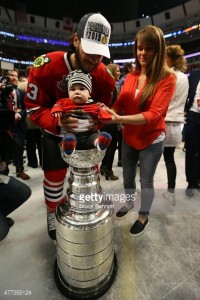 Daniel Carcillo and family, Game Six of the 2015 NHL Stanley Cup Final at the United Center on June 15, 2015[/caption]
It would've been easy to simply retire quietly and return to a less-demanding life. Daniel Carcillo could spend more time with his infant son, only three months older than Steve Montador's baby boy, born just four days after he died.
But instead, his friend's death gave him a new life. One with a purpose and a passion that was certainly not anything he could've predicted. But it's evident this is a man at peace: with his decision to retire and with the way he now lives his life, in honor of his friend.
Follow Chapter 5 on Facebook and Twitter.