"For They Shall Be Comforted"
[caption id="attachment_1996" align="alignleft" width="300"]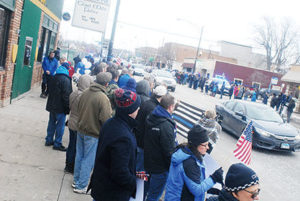 Beverly Review[/caption]
When Ron Howard filmed
Backdraft
in Chicago in 1991, a call went out for extras. The funeral procession at the end of the movie required a couple hundred firefighters in dress uniforms to march down Michigan Avenue. It's a powerful scene made more powerful by the inclusion of firefighters from around the area who offered their services. In fact, 5,000 volunteered.
So it was no surprise that when Chicago Police Commander Paul Bauer was killed last week, his wake and funeral were full of men and women in uniform. The six-hour visitation, at Nativity of Our Lord Church, required a three-hour wait in line for those who came to pay their respects. Most of those people didn't know Bauer personally. They came out of respect for a fellow officer, even if they came from another state. Civilians came out of respect for a neighbor, the parent of their child's friend, a parishioner. Friends and strangers alike felt compelled to show their respect and grief.
I've always been fascinated with rituals. Growing up at a time when the Catholic Church changed drastically after Vatican II, I saw old rituals replaced with new ones. There's comfort in rituals: you know what to expect and that familiarity can help heal in times of profound grief.
We saw plenty of rituals in Chicago last week: flags at half-staff, black and purple bunting over the police headquarters entrance, candles and flowers in front of the 18th District where he served, condolence books. But many people created their own rituals, their own way of showing support for the family, things Bauer's widow noticed in the 1,000-vehicle procession to the cemetery that shut down the Dan Ryan Expressway.
"If I wasn't out of tears, I would have cried the entire route to the cemetery. I want you to know that I saw each and every one of you who stopped on the side of the road to salute as the hearse went by. … I saw people of every color taking time out of their day, not only to pay respects to Paul, but to the entire Chicago Police Department."
So often when a friend dies we don't know what to do. We want to comfort the family and other friends, but we have to deal with our own grief, too. We don't want to impose, but we want to do something tangible, something that helps.
I doubt if the people Erin Bauer mentioned thought they were doing something that would make a difference. They couldn't go to the cemetery, couldn't squeeze into the little church for the wake. Other than watch the funeral broadcast live on TV and online, not much was left.
So they stood on the curb on a cold Chicago day, the snow holding off until the procession arrived at Holy Sepulchre Cemetery. They held homemade signs, wore blue (as requested of those standing on the route), made the sign of the cross as the vehicles passed.
Like you, I've sometimes had the feeling that what I did after a friend died was painfully lacking. I should have done more, though I had no idea what 'more' could be. But I think the actions of these people - friends, neighbors, strangers - prove that any gesture, no matter how small, can bring comfort to those who grieve. As one police captain told the
Chicago Tribune
:
"Whoever did what they can do, the fact that you did it...that is the fuel that is keeping us going."