Friend Grief and Men (ACT UP Edition)
Dec 15, 2015
by
Victoria Noe
, in
ACT UP , AIDS , Friend Grief , Friend Grief and AIDS , Grief , HIV , How to Survive a Plague , Jim Eigo , LGBT , men's grief
[caption id="attachment_1206" align="alignleft" width="155"]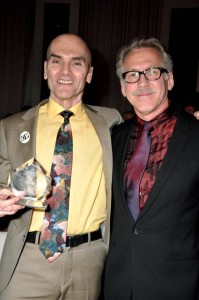 Jim Eigo receiving his award from Stephen Spinella[/caption]
One of the men you'll meet in the final book of my series
– Friend Grief and Men: Defying Stereotypes
– is Jim Eigo.
When I walked into my first ACT UP/NY meeting almost three years ago, Jim was the guy who waved me over to an empty chair in the circle. That kindness morphed into a friendship I treasure.
He has a long resume, which I'm sure was recounted when he was honored at Treatment Action Group's (TAG) Research in Action Awards on Sunday night in New York. Playwright, editor, writer, activist: words that cannot convey the depth of his talent and commitment to fighting the epidemic that is now in its fourth decade. He's the real deal – personally and professionally.
For those who believe that men don't grieve like women do, you need only look to the gay community. The losses there have been staggering: not just the numbers of men lost to AIDS, but the loss of talent and friendship.
Benjamin Heim Shepard's book
Rebel Friendships
looks at what Jim identifies as "affinity groups": sometimes loosely organized collections of individuals united in a common cause. Within ACT UP there were/are many of these groups, focusing on specific needs.
Those groups bring unlikely people together in a common pursuit, in this case, to end the epidemic and support those at risk or already infected. It's work that is frustrating and challenging and emotionally draining, because from weekly meeting to weekly meeting you knew that some of the people in that room would die.
But Jim is one of those people who kept at it, even as friends around him were dying –
because
friends around him were dying. He backed off for a number of years but returned just before I walked into that meeting in early 2013. You may remember him from David France's Academy Award-nominated
How to Survive a Plague
, about the early days of ACT UP/NY, which he referenced at the end of his speech:
The sequel to
How to Survive a Plague
is
No One Does
. But if human love cannot quite rescue us, it can transform everyone it touches. The support & care of the affinity group exists not just to comfort us but to enable us, even a constitutional melancholic like myself, to act, so that more & more of us live better & longer lives. We after all are all we have. But look around you. We could have done worse. And yet we can still do better. So tonight I would like to invite all of you who are not yet AIDS activists to come join us. ACT UP, Fight Back, End AIDS.
Congratulations, my friend. No one is more deserving.
Here's the video of the entire speech:
[embed]https://www.youtube.com/watch?v=exSvQfLhqFw[/embed]
(Remember, the crowdfunding
campaign
for
Fag Hags, Divas and Moms: The Legacy of Straight Women in the AIDS Community
runs through Jan. 15)