From Mentee to Mentor – How Did That Happen?
[caption id="attachment_1499" align="alignleft" width="139"]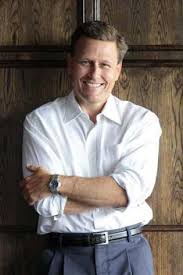 David Baldacci, #WDC16 keynote speaker[/caption]
Last weekend was my sixth Writer's Digest conference in New York (I also attended one in LA). This year, for the first time, there was a way for attendees to connect pre-conference.
The organizers set up a Facebook group accessible only to those who had registered for the intense three days. The moderators were able to share information on logistics (the end point of the Dominican Day parade in front of the hotel on Sunday meant traffic issues for those trying to leave town), dress codes, nearby restaurants, etc. Many if not most of those who posted were first-time attendees quietly – or not so quietly - panicking about the Pitch Slam. If you've never pitched a book at a conference, it's a lot like speed dating: 90 seconds to describe your book, 90 seconds for the agent to respond, then you move on to another agent. It's exciting but exhausting for agents and authors alike.
I remember all too well how I felt in 2011. I knew no one there. All I knew pre-conference was that tweeting was encouraged, so on the way there, I set up a Twitter account. I was pitching, though it was painfully clear to me that I was clueless. In fact, I cringe when I think about how little I knew then.
But we all have to start someplace. I was determined to make friends and I did. An unlikely group of people who'd been strangers before that weekend fell in together by Saturday afternoon. After the Pitch Slam we met in the lobby at the Starbucks-that-turned-into-a-bar-at-5:00pm for a drink before heading out to 9th
Avenue in search of a restaurant that would seat our very energetic group of eight.
I was a sponge that weekend, soaking up every word, every suggestion, every idea. A week later I started a blog and then a Facebook author page. I took an online class on platform from one of the speakers, Dan Blank. In that class I made more friends who have accompanied me on this journey.
I decided at the start of this unlikely adventure that I would always be willing to ask for help and I did. I still do. But by the time I walked into the Hilton on Thursday evening, I realized I was being sought out for advice, too.
Because I'd been to the conference before, I shared experiences and suggestions in the Facebook group. And once there – in lines, sharing a table, riding the elevator – I tried to ease the minds of those around me who were scared to death.
I told them to take a deep breath and asked about their books. I assured them that Pitch Slam would be a breeze compared to the set-up five years ago. I reminded them the whole point of the conference was that the organizers, speakers and agents were there to help them. I encouraged them to seek out sessions that were out of their genre, because they'll learn something that will make them better at their craft. And I promised that they would make deep friendships with other writers they meet at the conference.
[caption id="attachment_1500" align="alignleft" width="144"]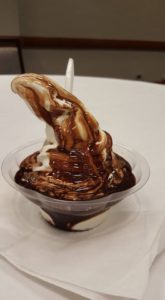 My reward after Pitch Slam, courtesy of Mr. Softee[/caption]
I think it was Saturday night after I pitched my new book to five agents (all want a full proposal) when I realized I knew very few people there. My usual roommate was unable to make the trip. Others I look forward to seeing also had schedule conflicts. The friends I did meet up with had been friends since the beginning almost six years ago. We bonded over work, but realized early on we just really liked each other.
I'm lucky that way, incredibly lucky. It's not to say I haven't met any jerks or encountered people who were out to scam me. I have. But these friendships have kept me going time and again.
"Not everyone knows what you know" is something I tell people a lot. We forget how stupid we were. We think we always knew what we know now. And we assume everyone else knows, too. So I felt obligated to share what I knew with those who were just as terrified as I was five years ago. It makes a difference to have your fears acknowledged and eased, especially when you're pursuing a dream that most people would not.
On my daughter's first day of kindergarten, a first-grade girl walked up and introduced herself. She showed her around the playground and helped ease her anxiety. The following year my daughter did the same thing for a kindergarten girl.
You were probably that nervous kindergartener at your first writing conference. That's to be expected. Just don't forget that we can all be that little first-grade girl for writers who are where we were not so long ago.