Memorial Day and Friend Grief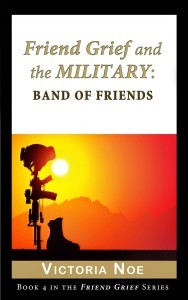 Next Monday is Memorial Day. You know what that means: social media filled with pictures of military cemeteries awash in tiny flags. You'll be asked to like, share and retweet for the entire 3-day weekend. Big sales at the mall. Politicians who routinely vote against veterans' interests will shower the military with praise, only to forget about them the next day
There are, unfortunately, a lot of fundraising scams out there and many are veteran-related. When I wrote
Friend Grief and the Military: Band of Friends
I wanted to have a charity partner: a reputable nonprofit that would benefit from sales of the book.
I found one in
Military Outreach USA.
 Their mission is to empower a Military Caring Network to serve those who have served in our nation's military. They work with thousands of faith communities across the country to achieve their goals.
Military Outreach USA receives 25% of the sale price (not profits) of all print and e-book versions of my book.
In addition, here are a couple more organizations that I've vetted:
Stop Soldier Suicide
. You've probably heard the often-quoted statistic: 22 veterans and 1 active-duty military commit suicide every day. That's not even close to the truth: the study these numbers are based on included data from only 23 states. The real number is closer to 50. If you want to make sure that Memorial Day doesn't have to include veterans who died by their own hand after returning home, check out their "22 Miles in 22 Days" challenge.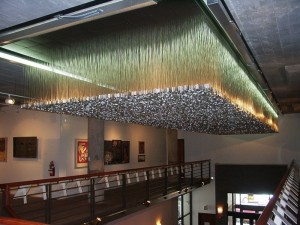 National Veterans Art Museum.
The photo you see here is of their most famous exhibit, "Above and Beyond", recently installed at the Harold Washington Library in downtown Chicago. It had been in storage for several years; the weight of the dog tags limits exhibit opportunities. The display of 58,307 dog tags is the only memorial other than The Wall in Washington, DC, to name all those who died in Vietnam.
Don't be like people who post pictures of military cemeteries, but do nothing to actually honor those who buried beneath the headstones and flags.
Don't spend the weekend taking advantage of sales without taking the time to reflect on those brave men and women who are mourned on Monday and every day.
All of these organizations deserve your support. It doesn't have to be a big donation; every dollar helps to honor those who died and support those who came back. There's no better way to spend Memorial Day.