Men, Their Friends, and Grief
[caption id="attachment_1049" align="alignleft" width="300"]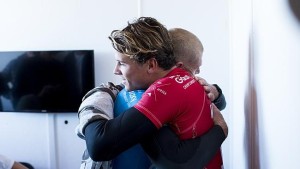 www.dailytelegraph.com.au[/caption]
Mars and Venus.
We've heard a lot over the years about the differences between men and women. Even my mother has a saying: "Men are not like normal people." It's easy to be sexist about men, especially when it comes to their emotions.
I learned very early on in my work on the
Friend Grief
series that I was as much to blame as anyone in having those opinions. In fact, I was proved wrong so dramatically that I wrote a mea culpa for
The Good Men Project
.
That's why, as you may remember, I decided that the final book in the Friend Grief series would be about them:
Friend Grief and Men: Defying Stereotypes
.
The biggest stereotype, of course, is that men's feelings for their friends are much more superficial than women's feelings for their friends. The title reflects what you're going to find in the book, coming out this fall.
Unless you've been cut off from the world the past week, you saw the dramatic video of the Australian surfer in South Africa attacked by a shark. Mick Fanning was competing in an event, and was a seasoned professional. But that didn't mean he was safe.
Bystanders and other surfers – including his friend, Julian Wilson– watched in horror and rushed to pull the surfer from the water before the shark could kill him.
Fanning was shaken enough that he declared his career was over, though he's since changed his mind. But even more dramatic was the reaction of his friend, his partner in the competition.
Wilson almost watched his friend die doing something he loved, grant you, but still die a horrible death. His relief was so great that he couldn't hold back tears. You can see the shark attack and Wilson's reaction in this
CNN report
.
A man. Crying. In public. About his friend.
Later, Fanning posted an emotional description about what happened later:
"In that little room a few of my closest friends from the CT [world tour] came in and I completely lost it," Fanning said on sponsor Red Bull's website.
"There was about eight grown men in there, and every single one of us was crying. At that moment I realised there was going to be some serious concern from my family and friends around the world."
Eight men crying about their friend.
Imagine that.