My Day at a Library Conference
[caption id="attachment_1559" align="alignleft" width="147"]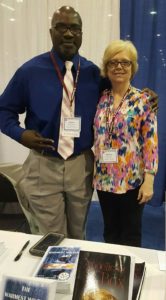 Sharing a table with James Gordon[/caption]
In a former life, I was a vendor for Chicago Public Schools. I repped two children's book publishers (one at a time) for fifteen years, working mostly with the school librarians. That experience could be a book in itself.
Occasionally, I had a booth at an educational conference: statewide library or teacher gatherings. I had the whole booth to myself (at considerable expense). I hauled boxes and boxes of inventory to set-up and sell, along with catalogs and order forms. It was hard work, but I usually did well. I almost always did it alone. That wasn't unusual. A lot of vendors ran their booths alone. Only the really big companies had multiple reps working.
On Wednesday I was back for my second Illinois Library Association annual conference as an author. And it's a very different experience.
A group of writers shared what was a double-booth space, two at a table, to meet and great librarians and talk about our books. For some of us, it was not our first time. But others were dipping their toes into the librarian world for the first time.
Our tables were set up in similar ways: books on display, flyers, business cards, book marks, candy (give them as many reasons as possible to approach your table). But what is great about being in a booth like this, as opposed to the old way I did it, is the camaraderie.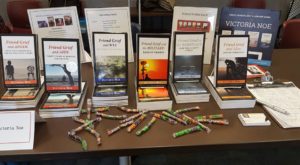 We introduced ourselves and checked out each other's books. We studied their promotional materials and filed away ideas for ourselves. We watched how they greeted the people walking by, convincing them to stop and talk.
We shared information: about what the librarians might be looking for, about upcoming events or contests, the location of the closest Starbucks. In other words, we bonded.
Yes, we certainly wanted to sell books and set up meetings, but we weren't competing against each other. Our books were as varied in genre and subject matter as we were in age and clothing.
We actually had a discussion about this and decided the only way to run our businesses was to pay it forward: to share what others had shared with us along the way, to lift up everyone.
Now, don't get me wrong, it's not always this much fun at every author event. I've had authors walk up and interrupt conversations I'm having with a customer to try to bring them over to their own table. I've seen event organizers sabotage their own events by not doing any publicity and then wondering why no one shows up.
But despite an imperfect situation – and they're all imperfect – we came together immediately to make it the best experience it could be.
How did I do? Short term: pretty bad, in terms of sales. Long term: a lot of conversations with librarians looking for programming. Making presentations at libraries is something I enjoy doing that puts me in front of new audiences interested in my books.
The biggest surprise was running into a vendor I'd worked with during those years at CPS. He retired a couple years ago for health reasons but was back helping out in their booth. We always enjoyed the camaraderie that I felt with the authors now: working alongside each other, but not competing. I brought him over to my table and showed him my books. He checked them over and looked around at our happy group of authors. He made a comment about me doing business the same way I always did, welcoming people and being supportive.
"I'm so proud of you," he smiled.
And that made my day.