Signs from Our Friends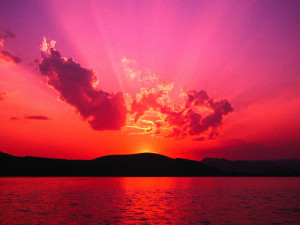 People who grieve often watch for signs from their loved one who has died.
I've had a number of signs from my friend, Delle. She had felt a strong calling to be a priest, an impossibility (at least at this time) in the Catholic Church. A couple years after she died, I went to Christmas mass at Sts. Clare & Francis, an Ecumenical Catholic Communion church in St. Louis. A woman priest was concelebrating the mass, and I couldn't help but think of Delle, and what she'd been denied. My eyes filled with tears, and then I felt arms around me, as if someone were kneeling behind where I sat. And I heard Delle's voice in my head saying "it's all right."
A woman I interviewed for my book told of her sometimes difficult adjustment when her TV co-anchor died suddenly. A few months after his death, she came back from a trip and turned on her computer, to see his face on her screensaver. There was no reason for that to happen, she insisted to me. It was an old, goofy picture of him and wasn't something she'd looked at in probably a year. But there it was: a reminder of her dear friend and the good times they'd shared.
Has your friend given you a sign since they died? Maybe it was discovering a letter they'd written to you years ago, or a dream you had. Maybe at a particularly low moment, their favorite song came on the radio.
Whatever the sign, remember that it didn't happen to make you sad or to make you miss them more. It happened so you'd remember them and the good times you shared. Treasure those signs and be open to more.