Straight Women in the AIDS Community
[caption id="attachment_673" align="alignleft" width="198"]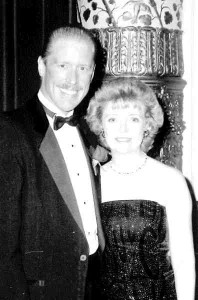 With my assistant, Steve Showalter, at the first Chicago House gala, September, 1990[/caption]
Next week I head to Washington, DC for the US Conference on AIDS, Sept. 10-13. I've never attended it, but it promises to be an intense few days. I'm looking forward to seeing friends and colleagues and making new ones, in part because of what I'm about to share with you.
I've already announced the final book in the
Friend Grief
series –
Friend Grief and Men: Defying Stereotypes
– will be out late this year (or January, depending on how it goes). While I work on that, I'll be starting another project: bigger, more complex, and loosely related to what I've already written. That's why I'm headed to USCA.
It's a project near and dear to my heart. It has its roots in a piece I wrote for
Windy City Times
"AIDS@30"
series in 2011, as well as my first
Huffington Post
article. The idea began to percolate in February, 2014, when I attended a panel discussion at the NY Public Library about the women of ACT UP. So many people in the audience – my daughter among them – were surprised by what they heard. I remember thinking to myself, "someone needs to tell these stories." And so I will.
Fag Hags, Divas and Moms: The Legacy of Straight Women in the AIDS Community
will tell the stories of women who have been largely forgotten in the history of the epidemic.
Let's face it: the friendship between straight women and gay men has been the subject of jokes for a long time. But the AIDS epidemic changed that relationship forever. We became involved in a cause, despite being told "it's not about you." We were high profile and anonymous, wealthy and not, all ethnic groups and ages, HIV+ and HIV-. We were involved because of those friendships, our own health, and the challenge of fighting this mysterious virus. Some came in at the beginning and burned out. Others stayed in, or joined the fight in recent years. Many of us paid a price: sometimes professional, more often personal. And we'd do it again in a heartbeat.
I'm seeking straight women to interview about their involvement (past or present), as well as archives that can help me identify these women and their contributions.
I'm grateful to have already received offers of assistance from across the US and as far away as London and Dublin. Since not all archives are digitized, this will involve some travel and other research-related expenses.
My plan to cover those costs includes a crowdfunding campaign this fall with a special twist. Thanks to a unique partnership with the New York Foundation for the Arts, contributions to the campaign will be
tax-deductible
. We've all seen projects on Kickstarter and Indiegogo that offer incentives, but this gives my supporters an extra bonus.
In October, in advance of the campaign, the book will get its own Facebook page to keep everyone up to date on my progress towards a 2017 publication date, as well as introduce them to some of the women they'll meet in the book.
If you're not a fan of Facebook, you can keep up to date on all this excitement here on my blog - or better yet, sign up for my newsletter in the upper right hand corner of this page. Every Wednesday you'll get a short, sweet email with updates on my books, speaking engagements, freelance articles, etc. And you'll be the first to find out about everything.
I'm humbled and intimidated and terrified and excited to start on this project. And I hope you'll come along for the ride. It's going to be amazing!