The End. But Not The End.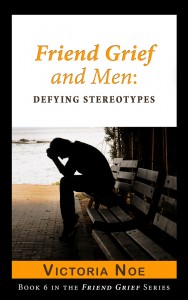 There it is. Yeah, the cover of the final book in the
Friend Grief
series.
Do I like it? Oh, yeah, I like it a lot. My cover designer (
Rebecca Swift
) never steers me wrong.
But still...it's the last one. It's the last book in the series. I'm about to hit "send" on the final edits, so next week it goes to the formatter. I had planned on it coming out this month, but the universe conspired against me. It'll be out in early May.
The end of the series does not mean the end of my weekly blog. Not by a long shot. I still have plenty to say about grieving the death of a friend. And to be honest, it's not completely the end. Here's what's coming later this year:
All the books will be out on iTunes.
The series will be bundled and available as a set (e-book first).
The series will come out as an audio book (though I'm not sure yet if individual titles will be audio books).
And remember, if you want to get the e-book of
Friend Grief and Men: Defying Stereotypes
FREE, just sign up for my email newsletter in the upper-right hand corner of this page.
So, the end. But not the end. It's been a wild ride that has changed my life. And I'm not done yet.
Stay tuned.