"The Living Memories Project"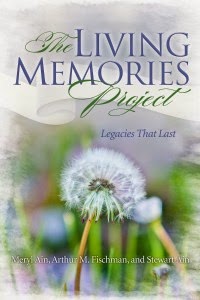 I've interviewed and learned about a lot of people who grieve the death of a friend. The circumstances vary. The way the grief presents itself varies, too. But one thing is universal: they fear their friend will be forgotten. And they do what they can – in ways that are large and small – to keep that friend's memory alive.
I've included those ways in my books, a way to end each one on an uplifting note. In fact, the final installment in the Friend Grief series will be a little like this beautiful new book.
The Living Memories Project: Legacies That Last
, by Meryl Ain, Arthur M. Fischman and Stewart Ain, introduces us to people who have found ways to remember family members.
The people in their book are from all walks of life. Some are famous – Malachy McCourt, Nick Clooney, Jack Klugman, Lynda Johnson Robb. Some are not: parents of a young man killed in Iraq or of one who died on 9/11. But all share that determination that death does not end a life.
Nick Clooney, best known to many as George's father and Rosemary's brother, speaks also of his less-famous sister, Betty. He advises people who grieve to take the best, most positive virtues of that person and pay them forward. Establish a scholarship, even a small one that will enable a young person to accomplish the same dreams that person was able to fulfill.
In fact, establishing scholarships was something many people in this book did. There was a very conscious effort that helping someone else – a stranger – was nonnegotiable. They could not honor the person who died without helping someone who was alive. "The great love you have for people who have impacted your life should mean something," Clooney explained.
In the end, singer Tonya Tecce said it best, when she describes the inspiration of her parents on her career:
"How would they want us to live our lives? By the examples that they set for us."
Learn more about
The Living Memories Project
and ways you can remember the people you love
here
.