"We Don't Grieve Well Alone"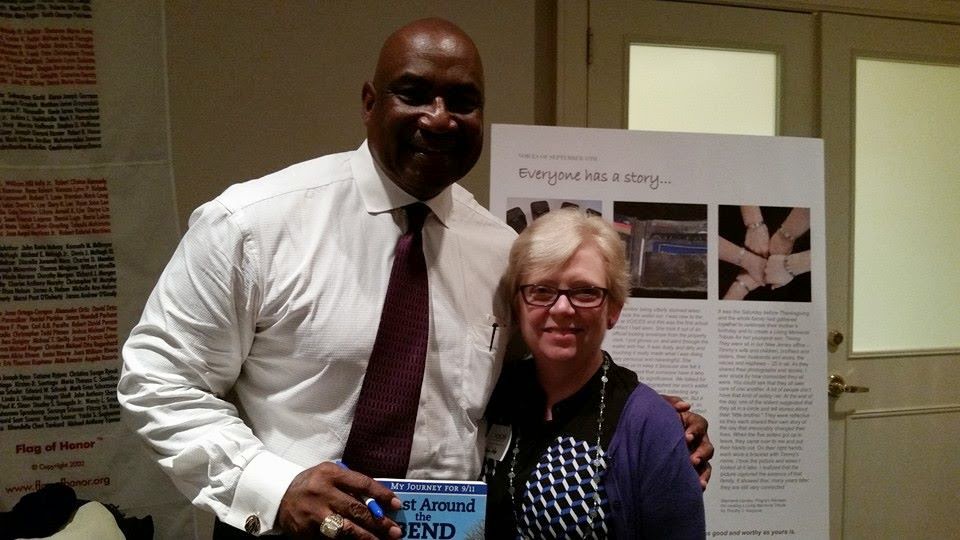 Former NY Giant George Martin and
me at the Information Forum
Yesterday I spent the day at the
Voices of September 11
Information Forum at the Marriott Hotel across from the 9/11 Memorial and Museum.
It's an intense day of panel discussions for families, first responders, community members and medical professionals on a wide variety of topics: the treatment of complicated grief, cancer treatment information, updates on the Zadroga fund reauthorization.
As people considered buying my book - and thanks to all of them - every one volunteered information: "I'm a survivor". "My husband lost a lot of friends." "My buddy only got down from 83 to 43 because he was helping people get out." Once again, the willingness of people to tell their stories touched me.
Time doesn't heal all wounds, but time does have a way of giving us permission to remember and honor those we lost.
As Dr. Katherine Shear of Columbia University said in her talk on complicated grief, "We don't grieve well alone."
Community: family, friends, coworkers, therapists, spiritual advisors - help us grieve. And the 9/11 community is a perfect example of a previously unrelated group of people thrown together under horrific circumstances. A community that not only helps each other, but which has expanded their reach to help those in other communities experiencing traumatic events.
I think that's important. Remembering and honoring the past if important, but sharing our experiences can help others in ways we'll never know.
One woman who bought my book said, "I've been thinking about writing my story." "You have to," I told her. "Because you're the only one who can."
It will certainly be therapeutic for her. But it could make the difference for someone else out there, too.
"We don't grieve well alone."
That's the truth.
Tomorrow and Friday, I'll share my observations of being in New York for the 9/11 observances. It's very different 13 years later.