Where Do You Go to Grieve Your Friends?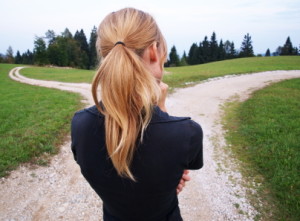 Student at fork in the road
I was raised Catholic, though I probably don't fit the definition of what some people consider a "good" Catholic. But I assume God and I will discuss the finer points of that topic at a later date.
So I was brought up going to funeral high masses, listening to "Dies Irae", coughing from aggressive use of incense. Before the funeral was a wake at a funeral parlor, sometimes lasting several days. Flowers sent by friends and family were delivered as people gathered before the dead person in their coffin.

Mass cards were left, and everyone signed the condolence book so that thank you's could be sent in the weeks ahead. There was a little room where family could escape for coffee and food. After the funeral, the family often hosted a gathering, in their home or at a restaurant, for extended family and close friends.
Those were our rituals. Every culture has their own. But there is comfort in those rituals. A large part of that comfort is physical: you have a place to go in the immediate aftermath of someone's death.
There has been much talk since the murders in Connecticut last week about community, and that's good. There is no more appropriate time for people to come together than after a tragedy.
But though we can all connect online, watching live broadcasts and following tweets, those are not a substitute for being in a particular place.
Memorial services – sometimes months after a death – are now commonplace. The kind of wake I'm used to is not the norm any more.
The beauty of those kinds of traditions was in the ability to gather together right away. We knew where to go to grieve, to support, to remember.
But now we improvise. We leave tons of flowers and candles in front of Buckingham Palace after the death of Princess Diana. We go to a bar with friends. We create shrines on the roadside after traffic accidents.
The events of last Friday have convinced me more and more that often when people say "I don't know what to do" after a death, what they really mean is "I don't know where to go."
I talked to first responders on the 10thanniversary of 9/11 who traveled from as far away as Australia to attend the ceremonies. Why? "I needed to be here," they all explained.
The need to share your grief with others in a place that has meaning is stronger than we think. That's why Facebook tribute pages have become so popular: people who could not attend a funeral or memorial service can share their grief in a particular place (albeit online) with others who also grieve.
Does it help your grief to have a place to go, a place to share your grief for your friend with others?
Does the lack of such a place make it harder to grieve?
I'll be interested to hear your experiences.