Why Women's History Month is Like A Treasure Hunt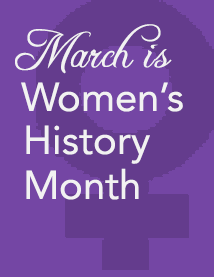 I have a friend who posts the same thing on Facebook every morning: "Today is National X Day. Please celebrate responsibly." He shares commemorations that are sometimes important, often obscure, frequently funny. I look forward to them because they start my day with a smile and a new bit of - sometimes useless - knowledge.
Women's History Month is like that, too. Just like February's Black History Month, every day in March brings stories that are new to many and endlessly fascinating. Uncovering those jewels is critical to our understanding of the world. 
This year marks the centennial of the 19th amendment, which finally gave women the right to vote. One hundred years ago, my grandparents were teenagers and young adults. It wasn't really that long ago. And though that is an important landmark to celebrate, there are countless stories out there that were ignored or erased.
Because of that, we're still honoring 'firsts': the first woman to do this, the first woman to do that. Sometimes the accomplishments are happening now. Sometimes they happened decades or centuries ago, but were not recognized until now. The success of books and films like
The Immortal Life of Henrietta Lacks
or
Hidden Figures
proves that there are still remarkable stories to uncover.
One of the great joys of the past year for me has been telling the stories of the women in my book,
Fag Hags, Divas and Moms: The Legacy of Straight Women in the AIDS Community
. A few women in the book, like Princess Diana and Elizabeth Taylor, were already well-known. Others, like Dr. Mathilde Krim, were familiar to those in the AIDS community. But many, if not most of the women in the book, were unknown. Their accomplishments were forgotten or pushed aside or devalued. 
When I contacted women to be interviewed, the most common reaction was, "Why? Why would anyone care about what I did?" It took some convincing. In the interest of full disclosure, I didn't want to include my story in the book for the same reason. But to ignore my own story would be wrong, too, because every story can be important to someone.
Uncovering these stories really did feel like a treasure hunt to me. Once I was in the research room at the New York Public Library and came upon a gem of a story. I had to bite my tongue to not shout "Yes!" It excites me when people - even long-time AIDS activists - tell me they learned a lot from the book.
You can go on a treasure hunt this month, too. Look for events at your library, museum or historical society. Check out your local PBS station, your favorite podcasts and Facebook pages. I promise you you'll be surprised and enlightened and deeply appreciative of the women whose stories you'll hear.
Go on that treasure hunt and see what you can find about amazing women who were trailblazers. Their stories will stick with you, and maybe inspire you to be a trailblazer, too.