Friend Grief in the Workplace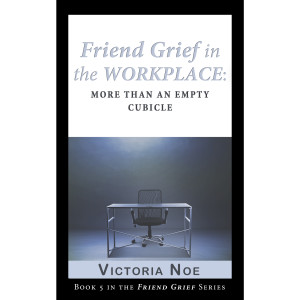 If it seems to you like my next book –
Friend Grief in the Workplace: More Than an Empty Cubicle
- has been in the works forever, well, it feels that way to me, too. I can't remember when my original publication date was, other than it was 2014. But it's finally happening, and I'm ready to share some specifics.
The one thing I knew when I started researching and interviewing was that I would use a very broad definition of "workplace". The majority of people you will meet in my book don't work in an office, much less a cubicle:
A Trappist monk and the nun who lived down a winding Kentucky road, united by their vision of a better world.
The St. Louis Cardinals baseball team, rocked by not one but two deaths in their organization – in less than a week's time.
The legendary director/choreographers Bob Fosse and Gower Champion, whose final shows' opening night parties were ruined when they both died earlier in the day.
Race car driver Dan Wheldon, some of whose friends watched him die, but had to keep going.
A priest who will forever be associated with the Archbishop he served and eulogized.
A TV news anchor who answered hundreds of emails from viewers after her on-air partner died in a snowmobile accident.
Two culinary teachers who were close friends, but could not have been more different.
So, yes: a broad definition. And as we hear their stories, we'll also consider how making friends at work can complicate your life. If one of them dies – or, in the case of one company on 9/11, hundreds – what happens? Who makes the notification? Does "the show go on"? Who replaces them? Is your job on the line?
It's a lot to consider, whether you're an employee, a manager or an owner, and you'll find tips on doing just that.
As with all my books, I hope you'll find the experiences of these people to be inspiring. I'm in awe of those I've written about who have taken the tragedy of losing a friend and dedicated their lives to honoring them.
Pre-sale for
Friend Grief in the Workplace: More Than an Empty Cubicle
starts July 1. See that email newsletter signup on the right-hand side of this page? If you subscribe to my newsletter, you'll get the book 
free
.
So, stay tuned. It's finally on the way. Make sure you're one of the first to read all about it.