Tracy Morgan's Friend Grief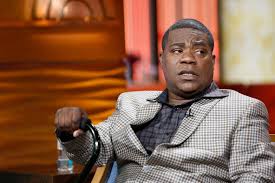 "Bones heal, but the loss of my friend will never heal."
You probably know Tracy Morgan as the talented comedian on
30 Rock
. But his life changed forever almost a year ago, June 7, 2014, when his limo was rear-ended by a Walmart truck. The accident killed his friend, comic James McNair, and left Morgan with debilitating injuries.
Last week he appeared on the Today Show, for an emotional interview with Matt Lauer. I'm not going to repeat much of it. It's much more powerful watching Morgan speak of his amazement at surviving, as well as his gratitude to the medical staff, his family and friends. How he struggled to understand what happened is very touching.
I know when something bad has happened to me I've tried to find the answer to "Why?". Sometimes I'm successful, sometimes not. But I think it's a question that everyone who survives a trauma wants to answer. It's more than "Why did this happen to me?" It's "Why did I survive?"
It will take Morgan a long time to heal, both physically and emotionally. He's got a damn good start and I wish him continued improved health.
And peace.
You can watch Tracy Morgan's full interview
here
.