How Authors Are Rewarded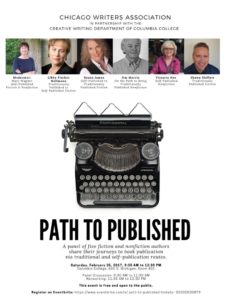 Last Saturday I was part of "Path to Published", a panel discussion put together by
Chicago Writers Association
. I think I can say that all of us on the panel had a great time talking about our various experiences: self-publishing, traditional and hybrid publishing.
One of the questions has really stuck with me since then. It was one that's fairly common, one that everyone is asked eventually:
"What's the most rewarding thing about being a writer?"
There are the obvious things: lots of people buying your books, great reviews, awards, crowds at your book signings. But that's not what I talked about. My answer was in two parts.
With my
Friend Grief
series, I knew I had a hard sell. Grief is not a real exciting topic. Whenever someone would ask what I write about, I would tell them that my books were about people grieving the death of a friend.
"That's depressing."
Yeah, that was the first comment I heard from most people. I assured them it wasn't depressing: the books are (I hope) powerful testaments to the deep friendships that enrich our lives and the ways people find to honor their friends. The person making that comment would pause; maybe tap the cover of one of the books. And then they'd say, "You know…" Then they'd tell me a story about a friend of theirs who died. That's when I knew I had them, that they understood my books.
The most rewarding part of my next book
(Fag Hags, Divas and Moms: The Legacy of Straight Women in the AIDS Community
) is a little different.
In September 2015, I finally committed to writing this book, after spending over a year trying to talk myself out of it. So one night I announced it on my personal page, my author page and in various AIDS-related groups I belong to on Facebook.
Within five minutes my phone was chiming with private messages and texts:
"You need to interview X. Here's her email. Tell her I recommended her."
"I wrote a book that has some information you can use."
"There's an organization in Philadelphia/San Francisco/Baltimore/Texas that you should contact."
Some were friends; others I only knew on Facebook. Many were strangers, members of the groups I belong to. But they all had one thing in common, besides liking the idea: they trusted me to tell these stories.
I didn't realize at the time how rewarding that would feel, but frankly, it keeps me going. There are strangers out there – in the US, UK, Canada and Europe – who believe that I can do justice to the women whose contributions to the AIDS community have never been celebrated.
I guess the difference between the two experiences is that with the first one, it's rewarding to me that they understand what I do. With the second one, their trust in me is not just rewarding, it's humbling.
There are times when I feel like no one cares about what I write. Other writers feel the same way. But the reward comes when someone says, "You have to do this. It's so important."
What can be more rewarding than the realization that someone believes in you?