Public Speaking for Shy Authors - Part 2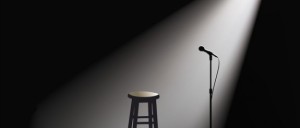 I recently gave a presentation at The Muse and the Marketplace writing conference in Boston: "Public Speaking for Painfully Shy Authors". It's a terrific weekend that I highly recommend to any author committed to improving their craft and career.
My presentation was in the first block after the opening keynote, which turned out to be great. Everyone was awake and energized and eager to learn. I greeted everyone as they arrived and asked if there was anything specific they were interested in learning. That gave me a chance to figure out ways to make sure the presentation met their needs.
The description in the program promised that there would be time for two or three people to be guinea pigs: stand in front of the group and do a reading that we would all then critique. Honestly, it takes a lot of courage to do that, especially for those who are scared. Two women volunteered.
One was somewhat comfortable in front of groups – in fact, she was on a panel the following day – but not so comfortable reading her own work. When she read from her new book, her voice was strong and confident, a big change from the way she rambled in her too-long introduction. The group gave great feedback on how she could improve, including writing down her introduction. It was clear she was more comfortable reading from a script than improvising. And that's okay, especially when you're new to this. Anything that puts you more at ease is good.
The other woman was scared, really scared. I could see the papers in her hand shaking even before she started reading. Twice during her introduction she struggled for control. When she finished, she apologized, but there was no need. The emotion wasn't scripted. The emotion was real, and the first time her voice cracked, that audience was in the palm of her hand. You could hear a pin drop.
I told all of them over and over, "It's okay to be nervous." Everyone is nervous in front of an audience. They may not use that word. They may insist it's adrenaline, not nerves. They may even lie about it. But being nervous means you want to do your best for your audience. It's when the nervousness rises to terror – like the stage fright that stopped Barbra Streisand from performing live for decades – that you have a real problem.
I like giving this presentation. It calls on my directing and teaching experience and gives me a sense of accomplishment. It seems to help a lot when shy authors realize that the audience is on their side. Their readers want to like them and their books.
Why not give them a chance to find out about you and your talents? Because once they meet you and learn more about your books, they'll be hooked.
For more information on this and other presentation topics, contact me at victoria@victorianoe.com.