Reflection on COVID-19 - More from Trudy James
[caption id="attachment_2380" align="alignleft" width="167"]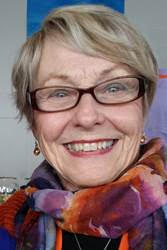 Trudy James[/caption]
A
s
I said last week, Trudy James is one of the most remarkable women in my book, Fag Hags, Divas and Moms: The Legacy of Straight Women in the AIDS Community. Her advocacy and activism - in HIV/AIDS and the death and dying communities - was recently honored by AARP Washington. She had so much to say about facing a deadly pandemic, that I decided to share more of her thoughts. I hope you find them comforting, too.
In addition to the "Speaking of Dying" film and workshops, I often give presentations, workshops, and consultations on the subjects of grief and loss. For many people this is new information. In these "Excited States of America" we have never tolerated sadness well, preferring to tell ourselves and others to "be strong, "get over it," and "move forward." I am observing some of that same tendency today, in our response to COVID-19.
If you have ever lost a dear one, a beloved pet, a job, your health, or a relationship, you already know about the pain of loss. You may have experienced some of the physical symptoms: fatigue, aches, or heaviness. Or the numbness, anger, disorganization, depression, regret and guilt that are all normal aspects of grief and loss. Hopefully, you learned how to respect and honor your own grief—maybe in a group, or with a trusted friend or counselor.
Or maybe you have "risen above them," as I did when I lost my first child, or when my father took his own life. You can receive a lot of positive strokes for "being strong." In my case, my grief was not actually felt or honored until I was learning to be a hospital chaplain—many years after the losses. If I had not learned how to admit and honor my own losses, I could not have worked so closely with AIDS patients and volunteers as I did for more than 20 years.
Now, we are collectively going through great loss in many forms: loss of precious lives—too many to absorb; loss of freedom of movement and connection; loss of jobs as we knew them; financial losses; loss of control; loss of faith in leadership; loss of our normal life. Individually and collectively, we are living in the "soup of unknowing." We are forced to find ways to live differently, ways to cope. We are brave. We are resilient. We support each other.
And at the same time, inside myself, and in reading the news and when listening to friends, I hear and recognize many feelings that reveal grief: numbness, disorganization, fatigue, and sometimes even denial. Can this really be happening? Will we wake up and discover it was all a bad dream? Will it ever end? I hear expressions of anger and deep sadness.
Grief is a built-in, natural response to loss. It is universal and it manifests itself in unique ways for each person. What is the same for everyone is that grief doesn't just "go away.". It may go underground, but it wants and needs to be acknowledged. If not, it may make us physically ill; it may show up in unexpected anger or depression. The natural grief process needs attention in order to proceed toward acceptance, healing, and reintegration.
We know that individuals, groups, and countries have survived huge losses. We know that good can come from this. And we are also aware that grief is real.
How shall we deal with it now, for ourselves, in this time and place?
In coping with my own grief, when offering support as a chaplain, and in workshops, I have learned some of the remedies that help and heal; these may help you, or people you know, now. Nothing works for everyone because our losses are unique, but perhaps this list will give you permission to feel and deal with your own grief in some way.
These are the basics:
Talking.

For most people, talking to others about loss helps. Our tendency is to put on a happy face, to share only positives. Admitting our darkness is equally important. Saying how much we miss people, how much we long for what used to be how cut off we feel. In order to "talk," we can use email, phone, Facetime, Zoom…whatever tool feels comfortable. What matters is being honest about our feelings. You may have to ask someone to listen to you without giving you advice. You can do the same for them. Remember –It is the opportunity to express loss that helps. So, if you have no one to talk with, writing your feelings in a journal works also.

Crying.

Tears are given to us for good purpose. They are natural. We've been conditioned by society that tears are weak and to be avoided. To allow tears to flow, we may need to listen to sad music or watch sad movies. If we can let our tears come freely—we will usually feel better.

Nature.

You already know this one, but it helps to consciously invite it into our grief. The power that comes from watching spring emerge, looking at a blue sky, the sounds of a babbling brook, even photographs of the ocean—all can remind us that we are part of something bigger. We are a part of nature, and part of the natural processes of death and rebirth.

Simple acts of kindness.

Finding some small way to help someone else, reaching out, listening to someone, asking them what is hardest for them, or what is helping them survive.

Rituals

.Grief is sometimes too deep for words. We can honor our grief through simple rituals done with intention: lighting a candle, planting a flower, reading a poem, meditating, deep breathing, sitting in silence. The intention to honor the mystery of grief with some small action comforts our hearts and souls.
May all be healed, may all be loved, may all be comforted.
This poem is my gift to those who have died and are dying of COVID-19
Thank you for being willing to make this sacrifice at this time. Thank you for preparing a way that all of us will follow at some time.
Today, still breathing, we pray that your passage was peaceful. We hope that you were able to say your goodbyes in your heart.
We regret that loved ones and friends could not be beside you; We know they were with you in spirit.
Our hearts are thankful for the time you were on this earth. Wherever you may be now, you are always present in memories.
If you are able, we ask you to send us the strength we need now. We ask for comfort, for courage, for hope, for vision. We long for a kinder, more equal, more compassionate future. Help us learn from this pandemic to create a better world.
— Amen
Trudy James
, 
a graduate of 
the University of Kansas and 
Union Theological Seminary in New York City, 
is 
a retired 
multi
faith hospital chaplain
 who spent 
2
0
 years 
creating 
faith-based 
volunteer 
CareTeams
 for people living with HIV/
AIDS
—ten years in Arkansas, ten in Seattle
. 
When she retired, she created a business called Heartwork. 
She has received many honors for her leadership in death and dying and grief and loss awareness. 
Producer of the documentary film, 
Speaking of Dying
, she is 
also 
a speaker, 
workshop 
facilitator, trainer, 
retreat leader 
and consultant regarding issues of 
grief, 
aging, 
caregiving, 
living deeply
,
 and dying well.